Featured Member: Kavita Julka, Empowering Women and Special Needs Children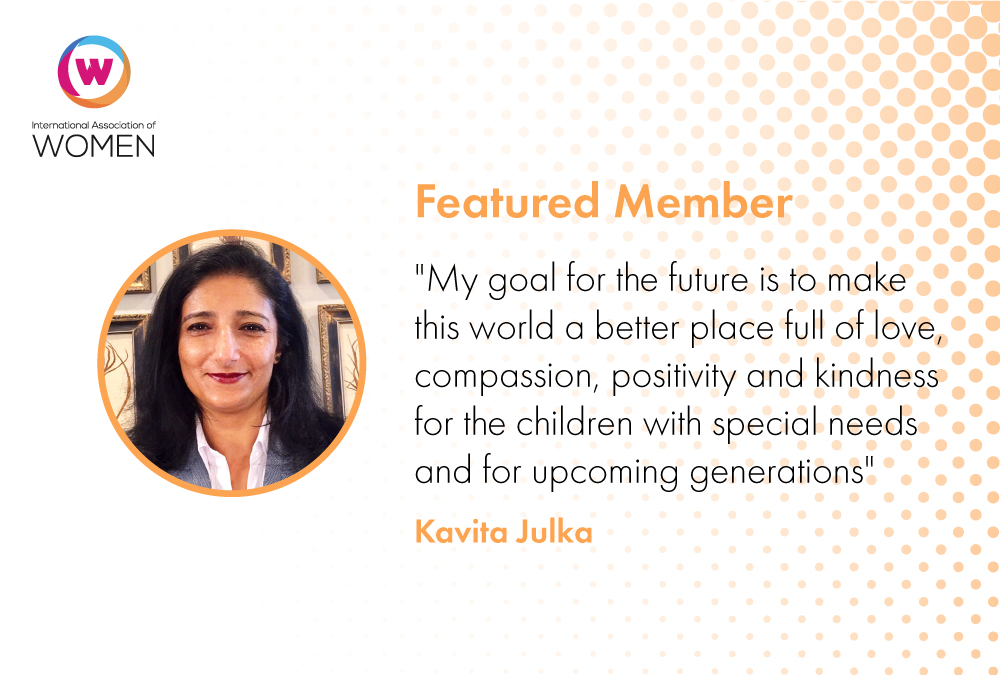 A Teacher, Paraprofessional and Holistic Healer Practioner, Kavita Julka works tirelessly to help and children with special needs and empower women who are victims of domestic abuse.
Meet IAW members in Featured Members, a weekly column where members highlight their careers and businesses. Innovator and Influencer Members: to be featured in Member Spotlight, submit the form here or contact us at memberservices@iawomen.com.
Inspired to Teach
My mom is a teacher and I have always been inspired by her dedication, discipline and duties as a teacher and as a mom. She is a highly motivated woman and she managed her personal and professional life very well, with a strong willpower. She taught me to never give up, no matter what the situation is.
My mother was a big influence on my decision to become a teacher but I also have to thank my dad who has always been a strong pillar of strength in my life. I also draw inspiration from my sister who has always been like my best friend, and from my daughter and son. My loving family has inspired me at every step.
Passionate about Helping All Children
As a teacher, I strive to teach my students while also keeping in mind their points of view. It is a top priority of mine to help them reach the levels of success and achievement I know they are capable of and to guide them as they fulfill their dreams. My ultimate goal is to make them good future citizens.
As a Paraprofessional, I get to work with special needs children and it is like a dream come true. Just as the extra pair of wings enables a dragonfly to accomplish astounding aeronautic gymnastics, para educators have become the extra pair of hands that allows teachers to truly support and make a difference for every student. Working with these children can be challenging, especially when I witness the mindset of society towards special needs children; this needs to be changed. The unconditional love and faith I get from these children are my greatest rewards. It makes my day and gives me a sense of satisfaction at the end of the day.
The Power of Healing
In my work as a Holistic Healer Practitioner, I help to heal and empower women who are victims of domestic violence or other abuse. I feel blessed to be guided by the highest source at each moment of my life and so thankful with a heart full of gratitude for the gifts I have received. I believe now is the right time to share my gifts with the world and make it a better place for upcoming generations and heal the present generation with love and positive attitude. I am a great observer and what I observe, I manifest into reality with a tinge of positivity and hope, no matter the challenges I face.
As a Holistic Healer Practitioner, I know it can be difficult when you want to step out into the world with your gifts when there are naysayers who are pulling you back and not letting you move ahead. Always remember how rewarding it is to see the smiles and positive reaction from clients who tried and used these gifts and made their life abundant, prosperous and healthy.
Continuing to Teach & Heal
My goal for the future is to make this world a better place full of love, compassion, positivity and kindness for the children with special needs and for upcoming generations. I will also continue to be the voice of empowerment for the millions of women around the world who are undergoing domestic violence, and those who are ill-treated and abused. I am excited to be a part of IAW. IAW is like a blessing in disguise with angel wings to fulfill my dreams.
Want to contact this member? Connect on www.iawomen.com today! Then message her or write on her Activity Wall.