Featured Member: Stacey Toy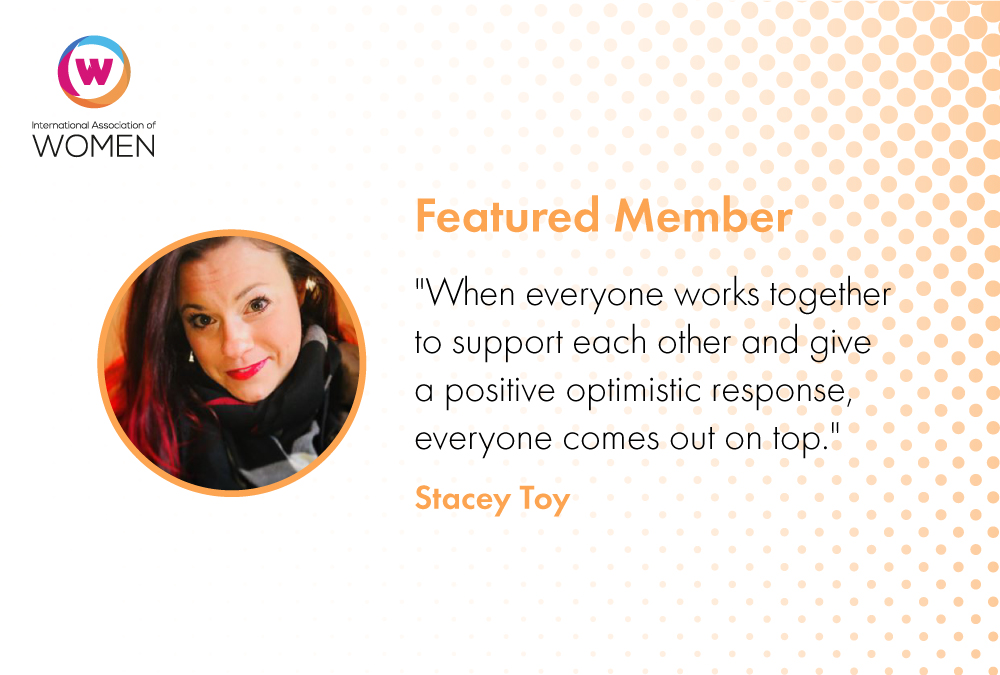 An award-winning Producer who is passionate about the entertainment industry, Stacey Toy is Chief Operations Officer of TwentyFiveEight Studios, Inc.
Meet IAW members in Featured Members, a weekly column where members highlight their careers and businesses. VIP and Influencer Members: to be featured in Member Spotlight, submit the form here or contact us at memberservices@iawomen.com.
In the News
I went to college and worked in live broadcast TV news for just over a decade. I helped corporate troubleshoot and perfect the automation systems in control rooms across the country. Once I helped build my future replacement, I decided to start my own company.
I was a widowed, single mother of two boys and only 31 years old. My business partner, Mark Dennebaum, Jr., was the person who told me that I was a Producer. Three years and 13 AAF Awards later, I owe so much to Mark. This was truly my calling; however, I only knew TV news producers, not the same as a film and TV producer. If my partner didn't care, he would never have pushed to help me find my place in this entertainment industry.
I have won awards for producing commercials, film, campaigns, music videos, etc. I also produce TV series, pilots, animations, documentaries, you name it. I'm really good at what I do and I wouldn't be able to do so well if it wasn't for my networking. Character is everything!
Be Fearless
Stop being afraid to fail! Stop being afraid to ask a question when the worst thing that could happen is to be told "no." Everyone needs to stop being afraid of things. The best thing in the world is failing…you learn so much more when you do it wrong. Also, don't be hard to deal with, have an attitude, or cross any inappropriate boundaries with anyone.
Keep it Professional
It's called Show BUSINESS not Show FRIENDSHIP and that's one of the challenges of this industry. Being friends and doing business together are two different things. It's hard to keep those boundaries sometimes. Business is important; if you can't work with friends in order to keep the friendship, then do yourself a favor and don't. The most rewarding thing about this career is bringing other people's creative and vision to life. Making movies and telling peoples stories is just priceless. That changes people's lives.
Be Strong, Be Supportive
I stopped having goals because at 34, I have done everything that I had wanted to do growing up. Despite losing my husband, being a single mother of two and running a company, I somehow still managed to work and travel to almost 80 countries. It was in finding my greatest weaknesses that I went on to find my greatest strengths.
I am the only female and I also co-own and help run TwentyFiveEight Studios, Inc. I want to have a place such as IAW where I can utilize all that it offers and, in turn, learn how I can also help support and encourage other women in their professions.
Work Together
In this modern-day world, women are now the pioneers, the business owners, the top professionals, etc. The way to success, to me, was perfectly put by my business partner, Mark Dennebaum. "All Boats Rise With The Tide." They do…and when everyone works together to support each other and give a positive optimistic response, everyone comes out on top.
Keep an eye out for upcoming press and media regarding projects, upcoming announcements, etc. As the majority shareholder for two of our three companies, we are unveiling our film company late this year and our distribution company late next year. Our team of six Investors from around the globe have been working with us to make this multi-million-dollar venture a success!
Do you want to connect with like-minded women and grow your career or business? Learn how IAW can help you to dream, rise and lead your way to success. Click the Learn More button below.