Melody Nolan is bringing awareness to suicide prevention and mental health issues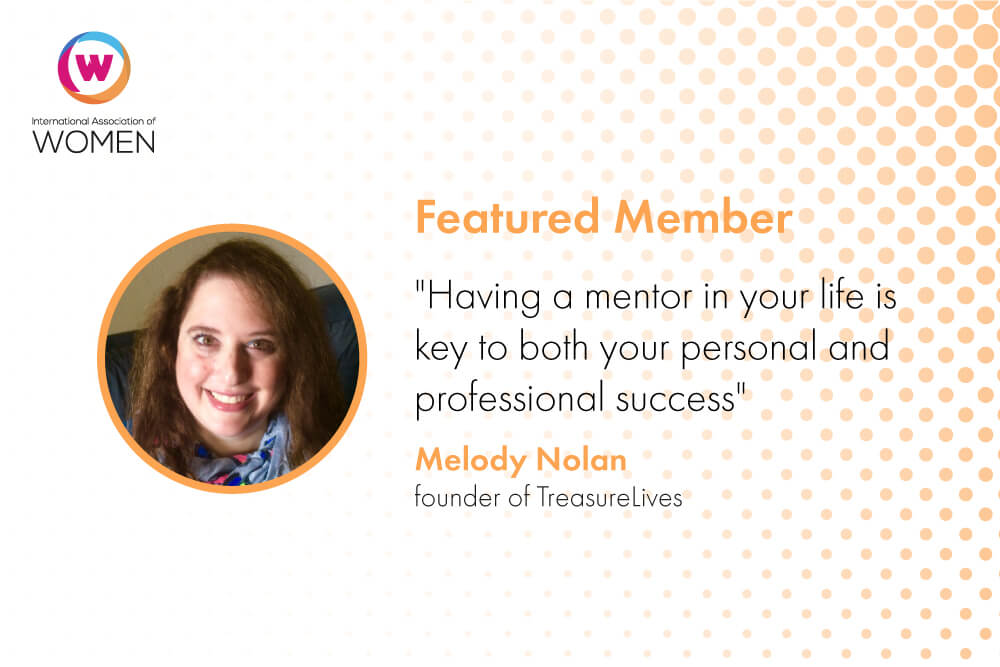 Melody Nolan considers herself a born advocate and creative problem solver. She founded TreasureLives to bring awareness to suicide prevention and mental health issues.
Meet IAW members in Featured Members, a weekly column where members highlight their careers and businesses. Today, the spotlight is on Member Melody Nolan. Innovator and Influencer Members: to be featured in Member Spotlight, contact us at memberservices@iawomen.com.
Stay on that Path
Although I definitely didn't do it on purpose, I would have to say that I have been my greatest adversary. As a person with disabilities, I made the mistake of allowing my conditions to shape my life. As I learn to shape my life around my conditions, my career is coming to fruition! I am happy to now be on the career path that is right for me.
Like so many of you, I've sometimes struggled with the decision to quit a failing endeavor or start anew. But when faced with that challenge, I believe there are several factors to consider: Are your expectations realistic? Is there a different way you can approach this endeavor? What are the consequences of continuing in this direction? Is this endeavor something you truly desire? It is wise that your life's mission be something about which you are passionate. Otherwise, there will not be enough internal drive to withstand the countless bumps, turns and detours (at times disguised as failures) along the way. As the author Ben Sweetland said, "Success is a journey; not a destination."
A Positive Attitude
Of course, it's not always easy maintaining a positive outlook on things. If fact, I'm still learning how to do so. More often than not, I have taken an external or even an internal message or expectation, blown it completely out of proportion and created a crisis. It helps to permit myself to experience the frustration, fear and doubt that often takes the form of crying, writing and venting; eventually, my head clears and I am better able to focus on what is true. Then, if there is an issue to be addressed, I can take practical steps towards resolution.
Influencers and Mentors
I've worked hard to be a person who brings about change but I didn't do it alone. There have been many women who have influenced me. The woman in my network who has had the greatest impact on me is Rebecca Lombardo of Voices4Change. Witnessing her trials and her growth brings me hope that I, too, can be successful. Rebecca is a woman of great integrity. She made the decision to take a public stand with me against an organization that was preying on vulnerable people at a time when no one else would. She chose to use her platform for good, and I am doing the same.
Having a mentor in your life is key to both your personal and professional success. Find someone, as I have, who will acknowledge your struggles without judgement and help you celebrate your successes as they come…sometimes in leaps; more commonly in baby steps.
Want to contact this member? Connect on www.iawomen.com today! Then message her or write on her Activity Wall.