When Tarana Burke helped lower the New Year's Eve ball in Times Square a few months ago, it capped an extraordinary year for women, and that momentum hasn't stopped. Burke's Me Too movement and the likeminded Time's Up rallying cry have helped call out the abuse and discrimination of professional women on the biggest of stages. And it isn't stopping.
From the 1st-century British queen Boudica to the 19th– and 20th-century suffragettes, countless brave women who made history are half remembered or lost altogether. Recorded history isn't always great at remembering women. So it's important that we make time to remember some women who have made history or who are currently making it.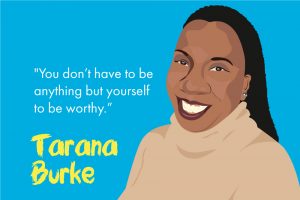 Activist Tarana Burke wasn't born into celebrity. She started working with organizations aimed at gender equality when she was a teenager. She founded Just Be, Inc., in 2006 as an outreach program for young women minorities, and she is senior director of the Brooklyn, NY-based Girls for Gender Equality. She had been spreading the Me Too message for more than a decade before it caught on in 2017.
Without Tarana Burke and all the other brave women who spoke up about abuse and discrimination, the dreadful behavior of overt sexual harassment and the culture of silence around it would certainly have continued into yet another generation.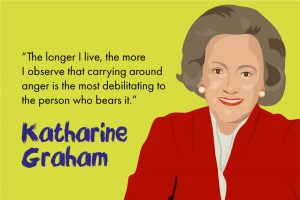 Renewed interest in Katharine Graham couldn't be timelier. This legendary publisher of the Washington Post challenged the most powerful men in the world and the patriarchal norms of her time. However, her first hurdle was finding her own self confidence. In her Pulitzer Prize-winning memoir Personal History, she talks about overcoming the notion that the world is a man's world. The Academy Award-nominated film The Post shows this transformation and her rise to become the first woman to head a Fortune 500 company.
Without Katharine Graham, freedom of speech in the United States might be much more limited.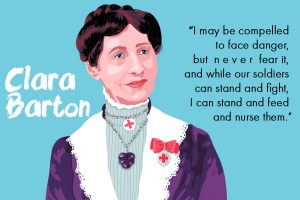 Maybe the most famed woman in medicine, Clara Barton was 60 years old when she founded the American Red Cross in 1881. She had treated wounded soldiers on the battlefields of the U.S. Civil War, and then she spent the next four years trying to find missing soldiers, identify and bury remains, and notify families of their soldiers' fates. At the same time, she went on a three-year tour lecturing about her experiences. This was highly unusual at a time when most women did not work outside the home. The relentless schedule left her exhausted, so she retreated to Europe to relax. In Geneva, she was introduced to the fledgling International Red Cross. Cofounder Louis Appia invited Barton to establish the American branch. She worked with Susan B. Anthony for universal suffrage and Frederick Douglass for human rights, and she spent years fighting the argument that the U.S. government shouldn't be involved in the Red Cross since America would never again face a calamity like the Civil War. Luckily Barton prevailed, finally convincing the government to recognize the International Red Cross.
Without Clara Barton, battlefield medicine could be a haphazard undertaking and the public's understanding of the horrors of war may lack true humanity.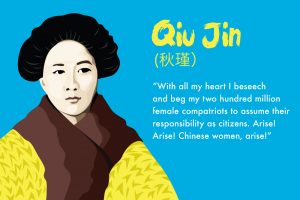 In a time and place where women had few rights, Chinese revolutionary leader and radical publisher Qiu Jin (秋瑾) spoke out against oppression—and she was eventually executed for it. Born in 1875 in Shaoxing in eastern China, Qiu Jin was subjected to the painful practice of foot binding, forced into an unwanted marriage, and duty-bound to bear two children. By her late 20s, she had had enough, so she left her husband and children for language training in Japan. She studied languages and martial arts, wore European and American men's clothing, and joined numerous secret societies plotting to overthrow both the ruling Qing Dynasty and the oppressive social order of the times. Both an elegant poet and a firebrand orator, she managed to unite the scattered revolutionary forces through her speeches and illegal underground publications, including a women's journal, China Women's News. She rallied with 2,000 like-minded men and women and returned to China to await the right time for political uprising. But she was found out. Using her publications as evidence against her, Qing Dynasty officials executed her by decapitation in 1907. She was 31.
Without Qin Jin's powerful stance and ability to unite disparate forces, the eventual overthrow of the monarchy might never have happened. China—and the world—would be a very different place today.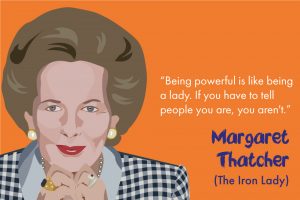 Dubbed "the Iron Lady" for her uncompromising political style, Margaret Thatcher was a divisive figure in British politics, and she remains so today. However, there is no denying her groundbreaking impact. The first woman to lead a British political party, the first woman appointed prime minister, and the longest-serving British prime minister of the 20th century, Thatcher was omnipresent in the 1980s, more so than Ronald Reagan or Mikhail Gorbachev. A research chemist by training, Thatcher was first elected to Parliament in 1959 and named secretary of state for education and science. Her first notable controversy was a cost-saving measure abolishing free milk for school children over 7. She took control of the Conservative Party in 1975, and in 1979, she was selected as prime minister. To battle a pervasive economic recession, her laissez faire policies emphasized deregulating financial markets, selling state-owned companies, and minimizing the power of labor unions. Thatcher shifted government spending away from housing, trade and industry subsidies, and transportation in favor of police and courts, employment training, and health and social security. She won re-election after Britain's victory in the 1983 Falklands War against Argentina. She survived an assassination attempt in 1984 when a bomb exploded in her hotel, killing five others. Britain's economy grew by 23 percent under Thatcher, but government spending grew by only 13 percent. Thatcher was highly critical of the Soviet Union and what she saw as their aspirations toward global dominance. Like Reagan, her popularity soared when she spoke against communist aggression. At a time when Britain's economy was weakest, she was a defiant pillar of strength.
Margaret Thatcher was the most powerful woman in the world during a critical decade for her country. Without her, Great Britain may not be as great today.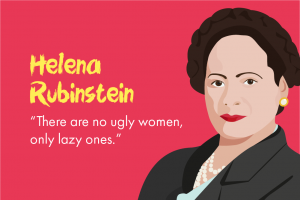 At just 4'10", Helena Rubinstein was once maybe the biggest woman in the world. The daughter of Krakow shopkeepers, Rubinstein emigrated from Poland to Australia at 30 years old with a suitcase full of her skin cream, stylish clothing, and little else. She didn't even speak English. She found eager buyers for the skin cream. Her uncle was a shopkeeper in the wool-producing area of Coleraine, 200 miles west of Melbourne, where sheep outnumbered people by tens of millions. Luckily, lanolin, one of Rubinstein's key ingredients, is secreted by wool-producing animals like sheep. Rubinstein had all the product she could ask for, and she started adding natural scents like pine and lavender to make her creams even more appealing. Within six years, she had shops in Melbourne, Sydney, and London, where she immigrated next. This time, she brought along $100,000. Four years later, she had a salon in Paris. At the outbreak of World War I, she moved to New York, where she initiated new marketing concepts like celebrity endorsements, strategic overpricing, and skincare pseudoscience. In a stroke of genius or incredible good timing, she sold the business to Lehman Brothers in 1928 for $7.5 million and bought it back again during the Great Depression for $1 million. Her brand expanded across the United States, and in 1973, Colgate Palmolive, then known as L'Oréal, bought the brand. She remained active with the company until her death in 1965. She was one of the world's richest women and maybe the first self-made female millionaire.
Without Helena Rubinstein, high-end cosmetics and the marketing tools used to sell them might never have evolved to their current level of sophistication.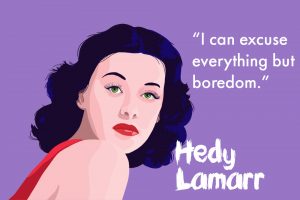 Anyone who thinks Hedy Lamarr was just another pretty face in Hollywood vastly underestimates this talented inventor. Yes, she appeared in more than 30 films from 1930 to 1958, but this Austrian beauty also invented technology that forms the basic elements of Bluetooth and Wi-Fi. Ever curious and not enamored with the trappings of fame, Lamarr experimented endlessly, creating designs for a better stoplight and an early Alka-Seltzer-like effervescent. She studied aerodynamics while dating aviation legend Howard Hughes, designing a more efficient airplane wing.
Without Hedy Lamarr, you might be reading this article on a device connected to a wall outlet via a wire.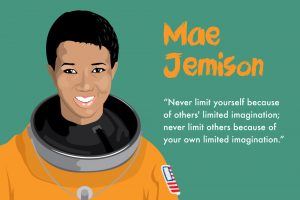 Scientist, physician, college professor, and entrepreneur Mae Jemison is best known as the first African American woman in space. Just as importantly, she also works tirelessly to ensure that young girls in the United States have a chance to follow in her footsteps via education initiatives for girls. After her 1992 journey on the Space Shuttle Endeavour, she founded her own company, the Jemison Group, to develop and market new technologies for everyday use. A few years later, she launched BioSentient Corp., a firm developing portable units for human nervous system monitoring. For the past several years, she has led 100 Year Starship, a research philanthropy group dedicated to empowering people through technology.
Without Mae Jemison, another generation of young women would lack role models in science who look like them.
These are just a few of the women we're remembering this month. There are so many more known and unknown with stories of courage and innovation making a difference in our world every day. History has proven that women are capable of doing anything. Learn how IAW can help you make history!