Do you want to achieve more and be more in 2021? Many women have had great results using a vision board to help them visualize and achieve their goals. Research has proven that vision boards do, in fact, work. Today we'll show you the steps needed to create your own vision board and help you visualize your dreams in the new year.
What is a Vision Board?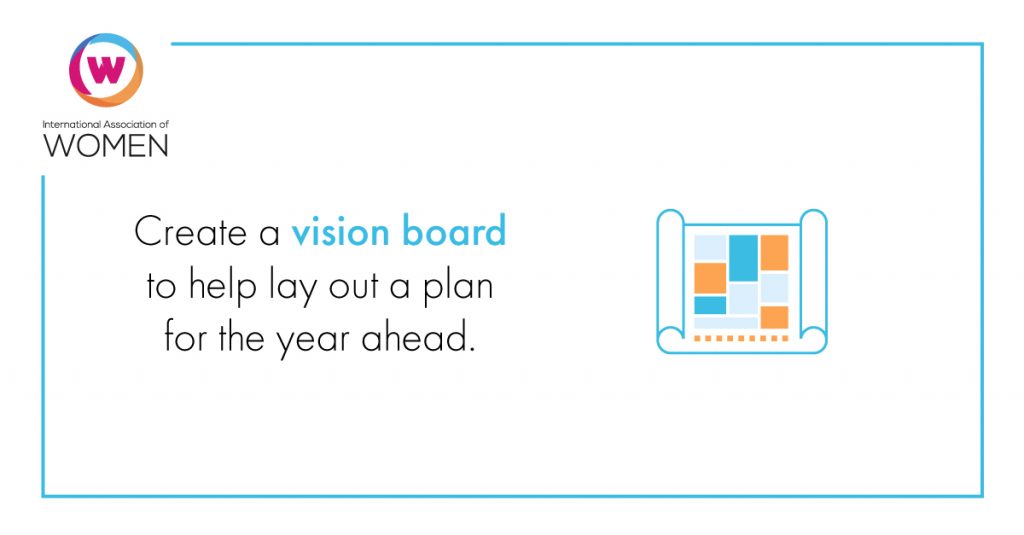 Before we address what a vision board is, let's start by defining what we mean by a vision. A vision is a practical guide used to create plans, and set goals, and objectives. A vision board is an extension of your vision in the form of a collage. Your vision board can include images, trinkets, and other items that help you to visualize your goals.
Do They Really Work?
Research says yes. It's about the law of attraction, says IAW member Gracie Jones. Focusing your intentions on your vision board aids you in visualizing and carrying out the steps you need to take to achieve those goals. Visualization techniques have been around for decades. For example, amateur and professional athletes visualize how they will achieve victory in a competition, and this helps them to focus their minds and make it happen. Women who have the most success with vision boards tend to focus on how they want to feel in the coming year, and not just on material things they want to acquire.
Materials Needed
A poster board or cork board to which you can glue or pin items
Alternatively, you can use a blank art book (there is no rule that says it has to be an actual "board")
Scissors
Tape, pins or glue
Magazines you can use for images or inspiring quotes
Photos, postcards, trinkets or other items you will want to view every day
How To Create Your Vision Board
Set aside an hour or two for putting together your vision board. You'll want to be in the right mood for this, so shut off the television or any other distracting gadgets. Light some candles and put on some relaxing music, if that appeals. Before you start creating your vision board, spend a little time figuring out your intentions for the coming year. Try asking yourself these questions and then jot down your answers:
What do you need?
What do you want?
Where do you want to be a year from now?
How do you want to feel when you get there?
Once you've answered these questions, you'll be in a better place to create a vision board that's effective and truly represents your intentions. Then, follow the steps below.
Create a list of goals you'd like to achieve in the year or next year.
Collect a bundle of old magazines with beautiful pictures or search images via the internet.
Find pictures that represent your goals and inspire you.
Make a collage out of your photos.
Add motivational and affirmative words.
Take a few moments to contemplate your vision board every day.
How To Use Your Vision Board
When it's complete, station your vision board in a location where you will see it often. This can be on the wall above your desk in your home office or any other place where you're sure to see it multiple times a day. Spend some time every day focusing on your vision board. Have a notepad handy. Jot down any ideas for actionable steps you can take to achieve the feelings and goals you want to achieve this year. A key aspect of using your board is to identify actionable steps, not just pie-in-the-sky ideas. Take small steps at first if you need to. Before you know it, you'll use your vision board to help you achieve your dreams!
Need help fine-tuning your goals? Join IAW's network of professional women all around the globe to find expert advice. Find a chapter in your area or connect online!