Featured Members: Debra Lindy and Kelly Brown took matters into their own hands to create a product that helps other women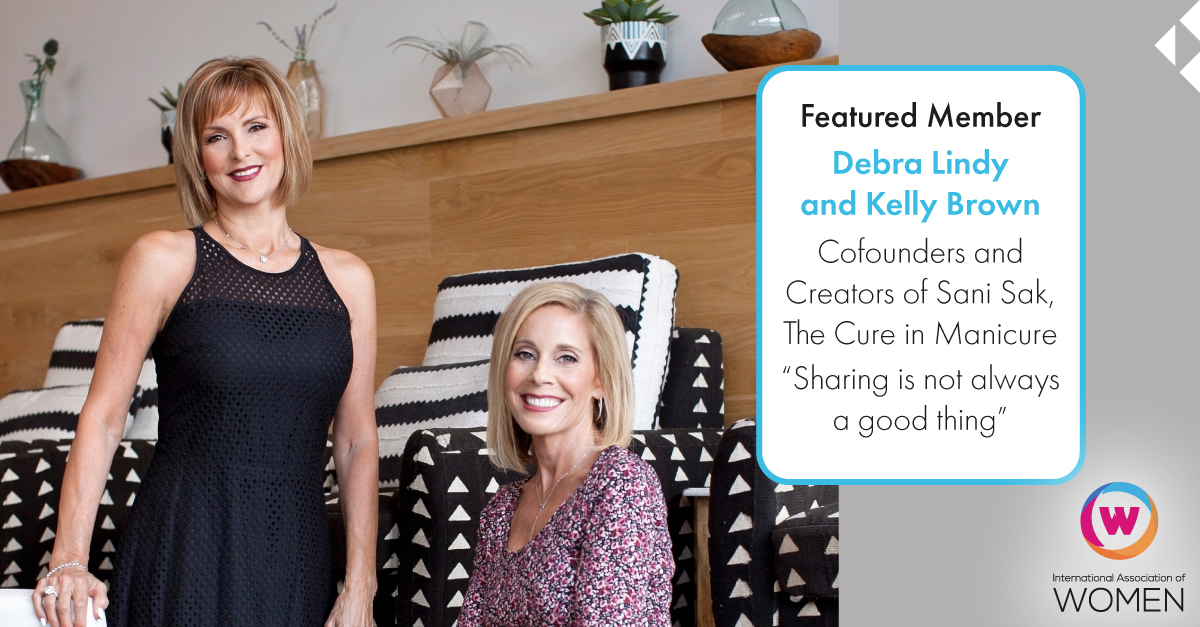 Debra Lindy and Kelly Brown have known each other for decades. Today, they are business partners and cofounders and creators of Sani Sak, The Cure in Manicure. Read how they took matters into their own hands and used their entrepreneurial spirit to create a product that helps other women.
Meet IAW members in Featured Members, a weekly column where members highlight their careers and businesses. Today, the spotlight is on Members Debra Lindy and Kelly Brown.  Innovator and Influencer Members: to be featured in Member Spotlight, contact us at memberservices@iawomen.com.
Sharing: It's Not Always a Good Thing
All your life you've probably been told to share. Well, we're here to tell you that when it comes to nail salons, sharing is just wrong.
Think about it. When you last went for a manicure or pedicure, did you stop to think about the tools the nail technicians used? Chances are they were used on plenty of women before you and probably weren't cleaned properly. The truth is, 1 in 4 women are the victims of dangerous nail infections due to getting manicures at nail salons and, sadly, 75% of nail salons inspected don't pass State Board regulations. We've come up with a great solution to help you avoid this hidden danger!
A Little Background
Kelly and I met in high school in 1975 and we've been BFFs ever since. Through the years, we've shared many of life's ups and downs, including boyfriends and breakups; births of our children and grandchildren and the loss of our loved ones. (Now we're sharing the dating scene once again in our 50's but that's a whole other story…).
Although we worked together at odd jobs when we were younger, our career paths took different turns once we got older. I acquired my manicuring license, eventually purchased a salon and went back to school to get my cosmetology license. Kelly owned and operated a mortgage and real estate company for more than 20 years.
Turning a Negative into a Positive
Of course, Kelly always came to my salon for her manicures but one day we were booked and she had to go elsewhere. A few weeks later when she was back at my salon, I noticed a discoloration under her thumbnail and suggested she see a doctor immediately.
Long story short, Kelly picked up a severe infection from dirty salon tools that were shared with so many other clients and ended up permanently losing both of her thumbnails! As painful as it was, Kelly was determined to turn her experience into something positive and enlisted my help.
Working Together Again
Combining Kelly's experience with my professional background, we've created Sani Sak, The Cure in Manicure, a complete nail kit loaded with everything you need for a safe nail salon visit, including your own set of 15 professional-grade essentials. Sani Sak consists of stainless steel nail tools, files, buffers and more, as well as an antimicrobial-treated towel organizer that holds it all while protecting your fingers and toes from those infectious, dangerous germs. Just bring it with you to all your nail appointments and enjoy peace of mind. And, please, when it comes to nail salons, stop sharing!
View Profiles:
Debra Lindy
Kelly Brown
Want to contact these members? Connect on www.iawomen.com today! Then message her or write on their Activity Wall's.