Featured Member: Tegwyn Dougherty started from the ground and worked her way up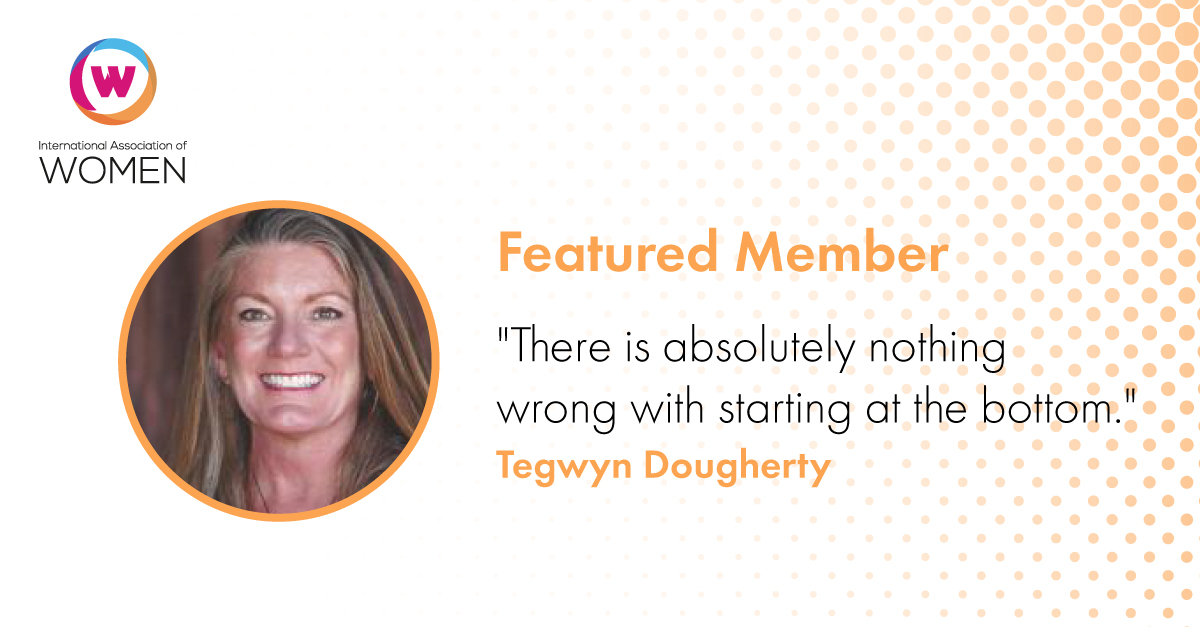 Starting from the ground up has allowed Tegwyn Dougherty to hone the skills and knowledge she needed to forge a successful career in sales management.
Meet IAW members in Featured Members, a weekly column where members highlight their careers and businesses. Today, the spotlight is on VIP Member Tegwyn Dougherty. Innovator and Influencer Members: to be featured in Member Spotlight, contact us at memberservices@iawomen.com.
Climb that Corporate Ladder
If you're feeling discouraged with your job because it's too junior or if you're thinking you'll never get a seat at the table, I'm here to tell you that there is absolutely nothing wrong with starting at the bottom. I began my career in Aspen, CO, in the early 1980s, working in the reservations department for the Chamber of Commerce. It was an entry level job but I learned so much and it has definitely led to many more opportunities.
In fact, from that first job, I moved into sales and became Assistant Director of Sales for the Aspen Skiing Company, selling to tour operators, airlines, travel agents and ski groups, domestically and internationally. My transition to sales in the hotel industry also started in Aspen and included additional roles such as front desk and reservations management. This allowed me to learn different aspects of the job, take on more responsibilities and meet new people, adding to my professional network.
I believe my solid, early foundation in hotel operations and management gives me a unique insider perspective and the ability to get to the bottom line with suppliers to offer customers the very best competitive terms for meeting/event and hotel/resort facilities for their events.
Look…and Listen for Inspiration
It's so important for you to take the time to listen to people because there is so much you can learn from others. There have been many people I've met along the way who have impacted my career, influencing my decisions and my career path. Hortz Schultze, then President of the Ritz-Carlton Hotel Company, spoke in Aspen in an effort to win approval to build a hotel at the base of the mountain. I listened to his words, and his passion for true hospitality and genuine service inspired me to focus on sales as a goal to be able to work for the company.
Other Inspiration came from women in the ski Industry who became leaders and opened the door for others. Having these women as mentors and professionals who I could look up to have meant a lot to me. Their actions have also ignited in me the passion to help others succeed not just professionally but personally as well. In addition to my role as Vice President Global Sales for HPN Global Performance Network, I am a Certified Bikram Yoga Instructor and have donated my time and skills to nursing homes and people with disabilities.
Sharing What I've Learned
In my more than 25-year career in hotel and resort sales and management, I've learned a thing or two that I believe are worth sharing with other professional women.
Sell the problem you solve, not the product;
Ignore what other people think, most people are not even paying attention to you; and
Don't be afraid to go out on a limb, that is where the fruit is.
What's been most rewarding in my career is that it allows me to connect with people and help them solve their problems or needs. Looking to the future, I plan to grow my customer base in South Florida as an Executive Meeting Planner, add another yoga teaching certificate to my resume and organize and lead a trip to Costa [Rica?] for a group.
Want to contact this member? Connect on www.iawomen.com today! Then message her or write on her Activity Wall.