Since she has a Ph.D. in strategic entrepreneurship, people pay close attention when Dr. Susan Amat gives business advice. The company she founded, Venture Hive, uses proprietary software and hands-on training to help businesses grow and, just as importantly, prepare for growth. She has some advice for us, too – for free.
The idea for what would become Venture Hive began while Amat was teaching at the University of Miami. There, she founded The Launch Pad, a program for students to start businesses and build links between universities. The Launch Pad was replicated all over the world as Blackstone LaunchPads, with Amat training and developing the IP for every aspect of the program. "It solved a great need, and I loved it in every way," she said. Eventually, the mayor of Miami-Dade County asked her to start a similar entrepreneurship education program in Miami to build Miami as a tech hub.
"Originally, it was about a student-centered program on university campuses to build the ecosystems in the community linking universities, and it was very pure and wonderful, but very much led by universities," Amat said. "Venture Hive shares the mindset of what we did at The Launch Pad – very much entrepreneur focused and training people to build businesses, et cetera – but at its core this would be for high-growth companies ready to scale."
Within a year, she realized Venture Hive could help build structures – systems and processes – that could help big and small businesses and other programs around the world that were building entrepreneurs and companies.
Amat was consulting for the State Department, the World Bank, the Kauffman Foundation, and others, completing evaluations to assess the impact on companies and ecosystems, when she saw a pattern. "No matter where I went, all of the programs had the same problems. So, Venture Hive started building the software to solve the problems ourselves. Now we build software and programs for corporations, governments, accelerators, and university programs all over the world."
The problems she noticed included:
A lack of internal transparency, which was needed know what was working and what wasn't
A lack of training on the importance of data in decision making
Startups and even growth companies were ill prepared for the due diligence needed for investor opportunities and management
Mentors weren't properly trained, so there was no effective way to measure their effectiveness and the return on investment in mentors
A lack of core-level knowledge of how to scale businesses, leading to a lack of the systems and processes needed to grow
In essence, these businesses – and the programs that were supposed to be helping them – didn't have the knowhow and tools to expand properly.
Today, Venture Hive offers five levels of content, ranging from products for individuals considering whether they want to be entrepreneurs before they leave the corporate life to systems for businesses already scaling internationally, with some clients making more than $30 million in revenue.
"We've concentrated on building out the systems and processes so that any innovator or entrepreneur who's willing to do the work can get access to real education and support," she said. "It's not just training to use the software, it's training to run good programs."
Venture Hive's clients come from more than 60 countries and span across industries: tech, banking, agriculture, retail, logistics, health care, travel, and hospitality. These companies often continue to work with Venture Hive for years because they face different challenges at every level. Amat and her company focus on building strong foundations to execute instead of acting like consultants on the business. "At the end of the day, it's about how you add value," she said.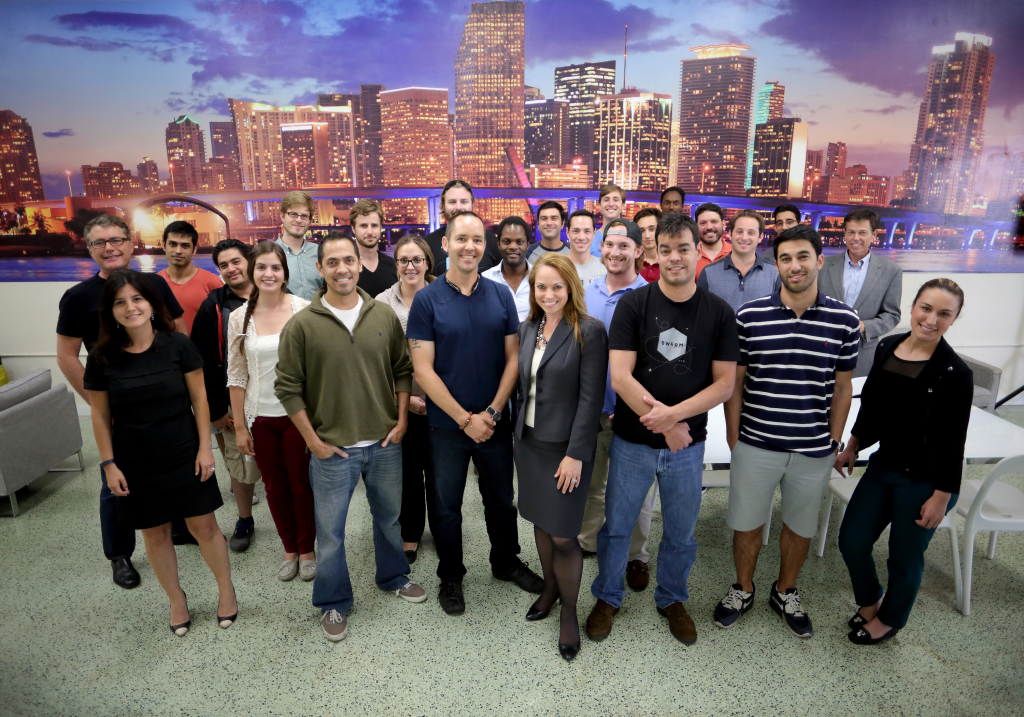 Lessons
One of the first things Amat learned as the founder of Venture Hive was to make sure to always be solving customer problems. Your perceived customer may not be the one you wind up with, she pointed out.
When Amat started, she thought every accelerator in the world would want her software. "It's exactly what every program needs," she thought. "But in reality, most of what I thought was going to be our original market, which is accelerator programs, they don't want anything to do with a transparency and accountability tool." These programs are fund-based and focused on early-stage equity slices and making the next investment round happen fast, so it is common for them to be judged on money raised rather than revenue growth.
"That's a terrible metric," she said. Most of Venture Hive's clients don't want to raise any more money in this way. They want to fund their growth through revenue. They don't want to become employees of investors. They want to solve a problem and control their destinies. "We started realizing our software customers are corporations who have to show accountability."
Advice
Amat's first piece of advice is something we stress here all the time. Do an honest assessment of what you want and how striving for it and achieving it will change your life for the better and for the worse.
"Be very honest with yourself around the kind of life you want to live," Amat said. "That means, if you're going to say you want to have a $100 million tech company, you are really giving up a lot of things. And if you don't have that in your skill set, you have to find the partners who are willing give up a life that they might be comfortable with as well. So, I think a lot of the entrepreneurs we deal with are really excited about being tech CEOs without really understanding what that means."
Maybe a smaller company that is still profitable and can be sold at a profit one day will be a better fit for your lifestyle, your skill set, and your partner's skill set.
"Maybe that will make you happier, and your kids will see you occasionally, than going for it as a big tech CEO," Amat said.
Her second piece of advice is to always focus on solving a single problem.
"Your solution doesn't have to be all things to all people. Know very clearly the exact problem you're solving for the exact customer. And you can always add on bells and whistles after that."
"Once you get those customers happy and trusting your brand and you're really solving that problem for them, it's very easy to add on and create a million additional features. But start simply with one problem that they face, and you can grow from there with loyal customers who will share what else they need from you."
IAW provides a platform for professional women to meet and learn from their peers. We're honored to have remarkable women like Susan Amat share their expertise with us.