When we first heard of shared office spaces a decade or so ago, it seemed like a good idea that might not find its market. We are happy to have been proven wrong. The modern gig economy, coupled with ever rising real estate values, means more and more freelancers and independent entrepreneurs are looking to be productive in temporary offices in coworking spaces.
The market is expanding to meet demand as well. Established companies, independent start-ups, and community-run spaces are popping up in most major cities. Almost all provide Wi-Fi, coffee, modern furnishings, receptionist and mail services, and loads of other add-ons. Here are a few to look for in your area.
Global: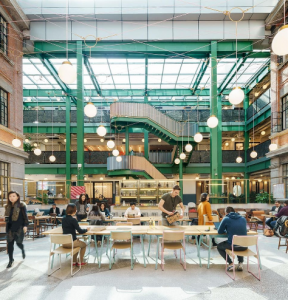 The biggest splash in the world of shared-office space has been made by WeWork. Founded in New York City, this quickly expanding company operates the brands WeWork and WeWork Labs, as well as the offshoots WeLive (a rental residential concept), Rise By We (a fitness center venture), and WeGrow (a proposed private school).
Where: 23 cities across the United States and in 21 other countries in Asia, Europe, and Central and South America.
Style: Each of the WeWork spaces is different, although all have an unconventional, playful, and quirky styling. The offices, open desks, and conference rooms can accommodate almost any team size. They also offer above-and-beyond extras like health care, payment processing, IT support, payroll, and legal services.
Cost: A WeWork hot desk—a space for you and your laptop—starts at $220 a month. A dedicated desk within an open floor plan starts at $350 a month. A private office is roughly $450 a month. The company can also build out features to meet your company's needs.
Founded in Brussels in 1989, Regus is an office-sharing company with true global reach.
Where: 3,000 locations in 900 cities across 120 countries (at least 600 in the United States).
Style: Regus spaces aim for straightforward office functionality. Most have small kitchens and coffee, and a let's-get-down-to-business vibe.
Cost: Regus private offices start at $5 a day, $6.20 with a window. Private offices and conference rooms are also available.
Davinci Virtual Office Solutions offers business addresses, live answering services and receptionists, and 1,500 private office spaces—no shared desks.
Where: Every US state and 49 other countries.
Style: Tech, fashion, medical, and legal firms have all found Davinci's spaces professional and useful. The company has an eye toward diversity and inclusion but is a bit more formal than other spaces.
Cost: Davinci pricing depends heavily on where you are. In general, a small private office that might accommodate three people will cost between $20 and $75 an hour, depending on your zip code. A larger conference room starts at roughly $35 and goes up to $300 an hour in expensive Manhattan.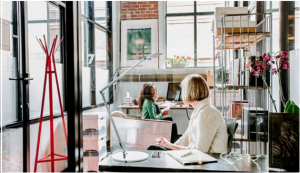 Industrious is US-based and attracts a mid-career crowd. They list Hyatt, Lyft, Pinterest, Chipotle, and General Motors as customers.
Where: 19 US cities coast to coast, and in the process of opening in six more.
Style: With an eye toward elegance, the Industrious office designs are sleek and no-nonsense.
Cost: Varies city to city.
US Cities:
Atlanta- Strongbox West
Where: 1040 West Marietta Street.
Style: Hip and unconventional with a lot to offer. With 49,000 square feet of space to work with, there is plenty of room for the formal lobby and receptionist, full kitchen and break room, mail services, and on-site coffee shop.
Cost: Drop-in desk-sharing day passes are $15. Shared-desk monthly memberships go from $95 to $185 a month. Dedicated desks go for $275 and office spaces are $500 or more monthly.
Chicago- The Shift and Second Shift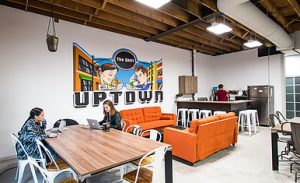 Where: 4101 N. Broadway and Second Shift in Logan Square at 3432 W Diversey Avenue. One of the great things about office-sharing spaces is that they don't have to where companies traditionally put their headquarters. Billing itself as a neighborhood office-sharing space, Chicago's The Shift, and its sister space, Second Shift help their customers avoid the rat race by keeping outside the city's business district.
Style: "We specifically opened outside of downtown, in a somewhat residential area," said founder/owner Nicole Vasquez. Customers are business veterans and newcomers, casual and formal, old and young, and every other diversity criterion you could think of. "It's a coffee shop vibe in terms of comfort and atmosphere, but professional, so people can work in their business suits or yoga pants if they want."
Cost: $145 a month for a shared desk, $295 for dedicated desk and mail service.
Los Angeles- Cross Campus
Where: Downtown Los Angeles, Old Pasadena, South Bay, and Santa Monica.
Style: The lively, playful, and colorful locations have been called a vital meeting place for Silicon Beach. They host an active calendar of events.
Cost: Shared-desk memberships—called residents—start at $375 a month. A reserved desk is from $400 to $500 a month, and a private office starts at $600 a month.
Miami- MiamiShared
Where: 990 Biscayne Boulevard.
Style: Modern Miami has a style all its own. Used by some of South Florida's best-known companies, MiamiShared's space shows off Miami's wavy, melted, post-deco arts amongst simple glass, white enamel, and grey steel workspaces.
Cost: All plans start with a mailing address, Wi-Fi, and access to a 60-inch plasma TV for video conferencing, among other perks. Flex plans start at $95 and go up to $225. Private offices start at $695.
New York- Bond Collective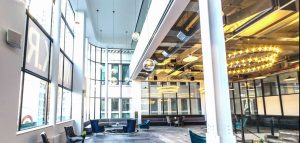 Where: Manhattan (Financial District, Flatiron) and Brooklyn (Gowanus, Bushwick).
Style: The Manhattan spaces are refined with an air of minimalist 1960s retro chic. The Brooklyn spaces are a little more eclectic and edgy.
Cost: Day passes are $40, $50 for a conference room. Coworking space in their open floor plan is $400 monthly, and a private office is $900 a month. A 16-person suite is $14,000 a month. If that doesn't work, a dozen or more Coworking spaces are located a short walk from the New York Stock Exchange.
Near you
Communities across the United States have similar co-working spaces available. Some are fancy, some are not, but most are priced so area entrepreneurs can get started without being killed on rent. A desk sign at the entrance to the Creative Workspace at Harlem Business Association in New York reads: "The Word 'Can't' Is Prohibited Beyond This Point."
Once you have your workspace figured out, you can continue to grow as a business person and professional. Joining a professional networking organization can help you connect with like-minded women. Monthly in-person meetings or virtual webinars provide an opportunity to learn and grow while also staying connected to other professional women.