Featured Member: Kelly Bates Shares Her Passion of Helping Women Discover the Joys of Travel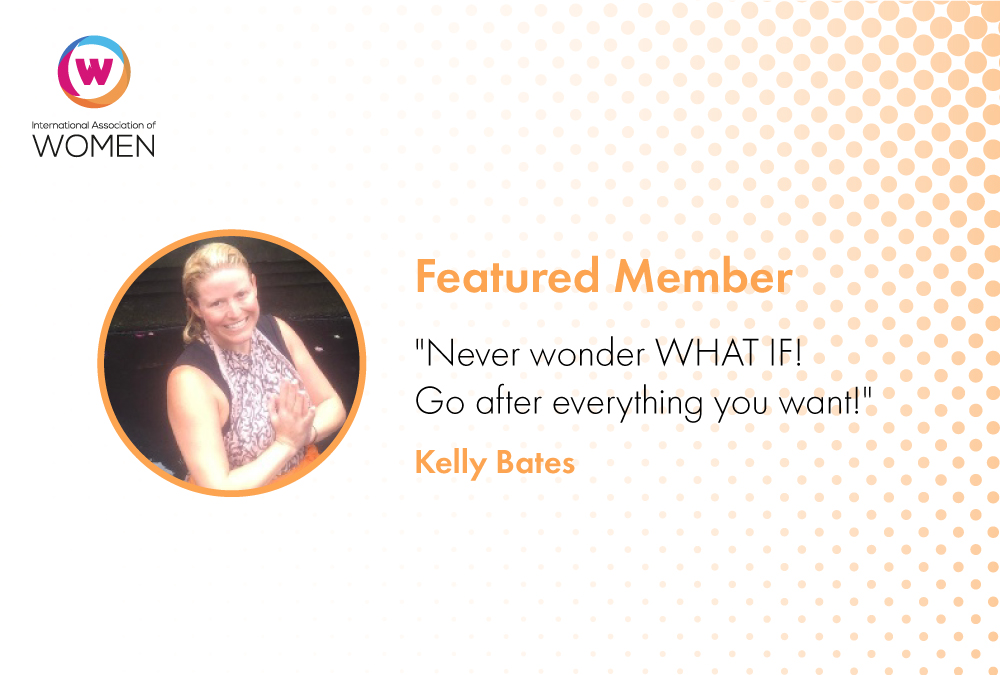 Kelly Bates is passionate about helping other women discover the joys of traveling.
Meet IAW members in Featured Members, a weekly column where members highlight their careers and businesses. VIP and Influencer Members: to be featured in Member Spotlight, submit the form here or contact us at memberservices@iawomen.com.
It Was in the Cards
It was in 2016 when the seeds of entrepreneurship began to be planted. I was in Bali, and there was this deck of cards called messages from your angels. Intrigued, I pulled out at card, flipped it over and read Career Change. I laughed, and immediately disregarded that massage. I received the same message again, but this time from a Tarot Healer. A few months after I returned from Bali, I learned that I was being laid off. I sat down with my CEO and had a very candid conversation about what I should do next and he said, "You love travelling. Do something with travel." Almost overnight, Travel Souly was born!
I believe my experience as an Executive Assistant researching, planning and seamlessly executing travel arrangements for CEOs and other executives has made me an expert in this field. Additionally, I have always had a love for traveling, and I often travel alone. The knowledge you gain while traveling on your own is priceless. It is not something that can be taught, but only learned through experience.
No Ifs, Ands or Buts!
Here's a really good piece of advice that has truly helped form my life's path: NEVER WONDER WHAT IF! Go after everything you want. If you don't know how, then figure it out. If you fail, then figure out a different way and try again. If you don't have the means, then hustle until you do. If you succeed, then you know you have made the right decision. If you decide it's not for you, then simply stop. Only you are in control of your life, and what you decide to make of it. Personally, I like knowing that I gave everything I ever wanted a real shot. Some things worked out and some things not so much, but I'll never wonder "What if" and there truly isn't any other way to live.
Excited for the Future
I am building this company from the ground up, 100% on my own. In the beginning, everything is trial and error. I have had to teach myself a lot of things over the last few months. I have made plenty of mistakes, and some of which had cost me a lot of money. There are challenges every day, but none that make me want to throw in the towel and give up. My biggest challenge is getting the word out there that Travel Souly exists. At the same time, it's been little over a year since I first launched, and I know I have to be patient. Looking back, I have never been more proud of myself. I have found the one thing that makes me ultimately happy, and through this company I have the ability to help so many women. It's an amazing feeling, and certainly the most rewarding.
My immediate goal is to have one trip a month with at least five women on each trip. Then I would like to have two trips per month with at least ten women on each trip. I hope to increase the number of trips each year. Also, I would love to incorporate excursions that offer travelers the opportunity to volunteer within the communities we are visiting. I believe it's important to give back and eventually, I would like for Travel Souly to get involved in raising money for charities as well.
Effort=Results
I am new to IAW. Therefore, I can't really answer this question just yet. I know that IAW will have a huge impact on my business. It's just a little gut feeling that I have! 🙂
My advice to other members is to network and connect! Attend the local events. Get involved in the IAW community. Sign up for the webinars and listen to the recordings if you can't make the scheduled time. This is your membership, and it's up to you to do with it as you see fit. I believe you need to put in the effort to get results. That's the truth with anything in life to be honest.
You're Never Alone
Many women have the desire to travel, but they are too afraid to go alone. I am creating a comfortable group environment for solo female travelers. Even though they are solo, they are traveling with a group of like-minded women and therefore, they are not alone. Never solo, only with soul!
Secrets to Success
Kelly recently contributed to a feature sharing her secrets to success. Be sure to check it out here!
Connect on www.iawomen.com today! Then message her or write on her Activity Wall.
Do you want to connect with like-minded women and grow your career or business? Learn how IAW can help you to dream, rise and lead your way to success. Click the Learn More button below.