Featured Member: Nimat Davis – Turning Dreams into Reality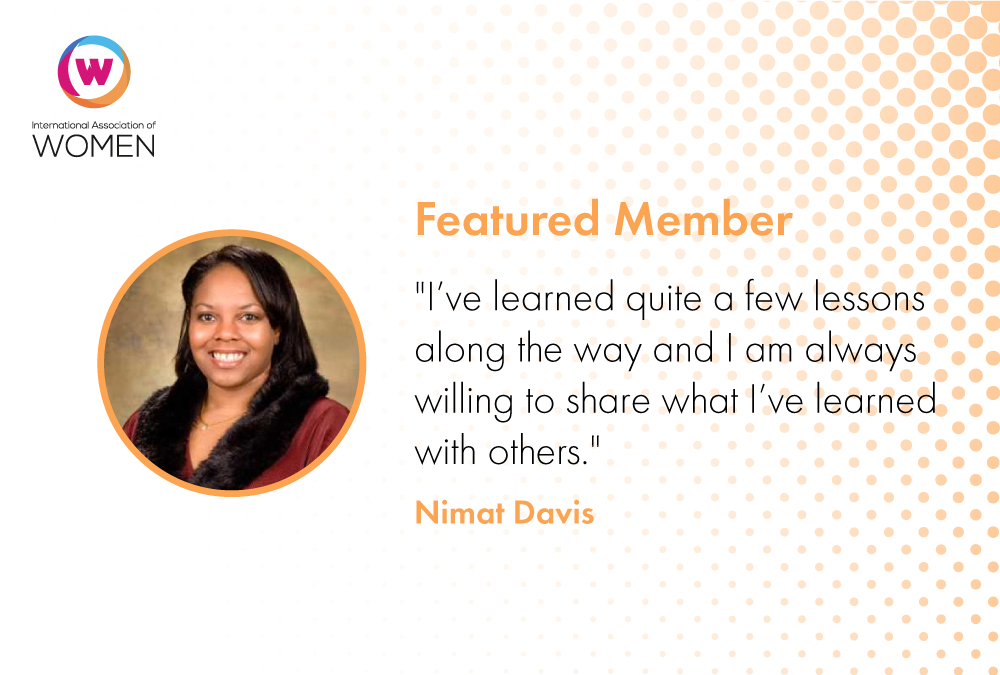 Meet IAW members in Featured Members, a weekly column where members highlight their careers and businesses. Today, the spotlight is on Member Nimat Davis. Innovator and Influencer Members: to be featured in Member Spotlight, submit the form here or contact us at memberservices@iawomen.com.
Growing up the daughter of a military man has helped shape Nimat Davis' love of travel and has inspired her to help young people realize their dreams.
Discovering the World
I love to travel because my father was a tank commander in the military, so I have lived and traveled abroad since I was 3 years old. I struggled in school, but I knew if I wanted to continue to go to exotic destinations I would have to be on the honor roll and get scholarships. So, I worked hard and pursued higher education, which has given me opportunities to travel to Africa, Japan and Italy.
I have a Master's degree in Education Administration and Leadership and my area of expertise is counseling and advising. I am currently Manager of Lyles College of Engineering at California State University, Fresno, but I am seeking a position where I can assist students who, like I once did, desire to pursue a degree in higher education. I want to show them how to succeed and complete their degrees.
Lessons Learned & Shared
I've learned quite a few lessons along the way and I am always willing to share what I've learned with others. First, do not give up on your dreams. You may have a detour or two but if you're breathing you can get back on track and pursue your dreams. Second, keep your eyes open. Always, look for opportunities to learn and advance. Third, share your gifts and knowledge with others.
The Importance of Giving Back
I am currently a mentor for the Renaissance Program at Fresno State for Foster Youth. This program assists foster youth released out of the state system. I can share my experiences through storytelling, highlighting the pedagogy or higher education to change the direction from foster care to prison pipeline.
As a mentor, giving guidance and advice to assist someone with retention and completion of a degree is gratifying both professionally and personally. Sharing the gift of education and assisting a new generation of scholars…there is no greater joy for me than that! The most rewarding thing in my career is assisting students. It is very gratifying to watch them learn and grow and become experts in their field. The most challenging thing about my current position is supporting so many faculty, teaching assistants, instructional assistants and student assistants.
My future goal is to become a Career Counselor in the Fresno, CA, area.
Want to contact this member? Connect on www.iawomen.com today! Then message her or write on her Activity Wall.