Chapter President Spotlight: Debbie Luxton – IAW St. Louis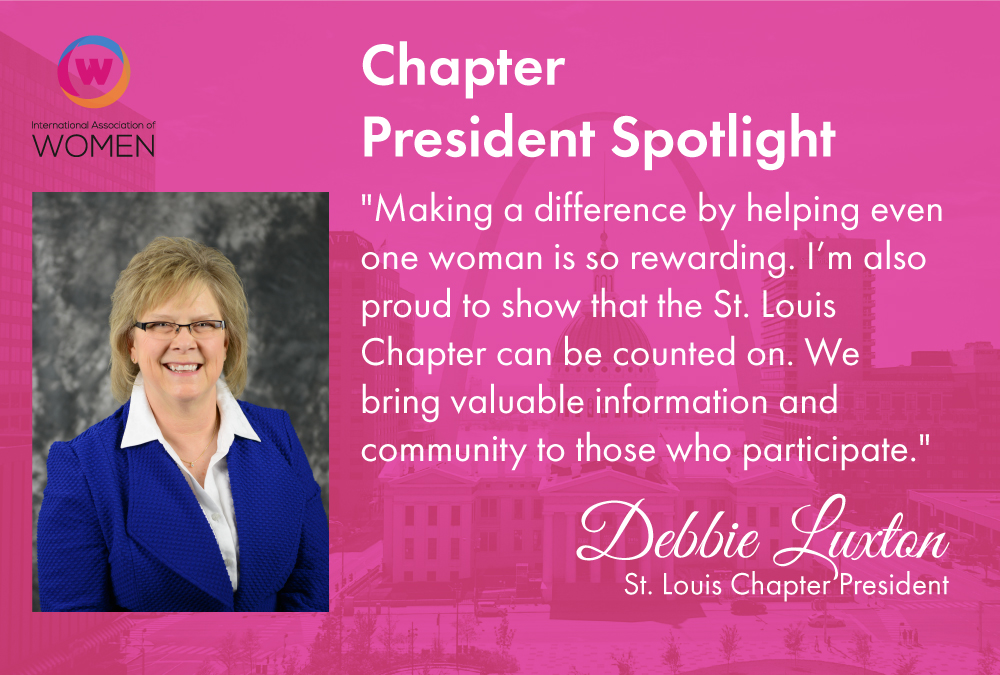 An entrepreneur who wears many hats, Debbie Luxton, CEO of One Life to Thrive, LLC, has been fearlessly leading the IAW St. Louis Chapter for nearly two years.
Leading a Community of IAW Women
I decided to take on the role of St. Louis Chapter President because the Chapter had become defunct but I knew women like myself were hungry for a local community of IAW women. I always gravitate quickly to women in need through a leadership role. I wanted to see a successful community here for women. Giving back and serving others as God leads me.
Accomplishing & Inspiring
I am very proud of the consistency of the St. Louis Chapter. We do what we say! The Chapter has not missed a monthly meeting in nearly two years. I recently had a leadership team member tell a radio listening audience that I was an inspirational women in her life. That is a humbling statement and means a lot. Making a difference by helping even one woman is so rewarding. As President, I'm also proud to show that the St. Louis Chapter can be counted on. We bring valuable information and community to those who participate.
Impacting the Local Community
At the St. Louis Chapter, our focus is on providing our local community with quality over quantity. We have continually received positive feedback about the great take-aways that come from our 'connections and community' exercise/discussions. This June, we are doing our first philanthropic event. I am very thankful to give back in this way!
We have our calendar filled for 2019 and have begun planning discussions for 2020. It is great to be ahead of things. I think we have an exciting line-up in store for our future meetings. Coming up, we will be covering a diverse set of topics, including how to reenter the workforce as an experienced professional as well as health and how to properly read food labels, which is invaluable to women and their families.
About Me
I've been doing what I do, leadership roles, pretty much all of my life. God pushed me into my profession formally and as an entrepreneur after retiring from a 30-year corporate career in 2008. He is always pushing me out of my comfort zone, such as moving into an area of helping pastors' wives embrace their influence. This is new for me. My husband and I continue to lead our local Celebrate Recovery Ministry since 2006.
I am the mother of five, grandmother of 10 and great grandmother of two. We are a boatload! My husband and I have been married for almost 29 years. I will celebrate a big birthday this August. On this day, my husband and I plan to climb our first '14er' in Colorado. A fun fact, my husband and I share the same birthday!
As CEO of One Life to THRIVE, LLC, I wear many hats, including Life Coach and Certified Leadership Coach, Women's Retreat Leader, Business Owner and Author of Choose to Thrive: Conquering Your Inner Conflicts. One of my passions is to serve the wives of pastors. I am currently organizing a retreat for these women to be held in October in Colorado Springs, CO. Information will soon be available on my website. I am also interested in meeting pastors wives who would like to discuss coaching/retreats.