Featured Member: Alandria Lloyd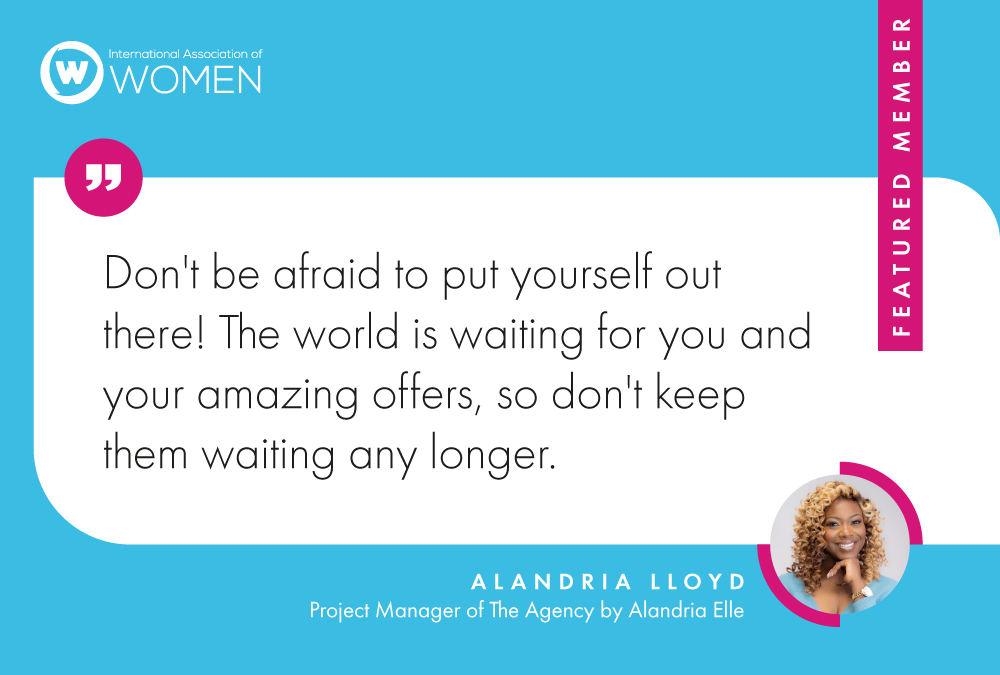 With so much visibility through online connections, the platform you market yourself on can make or break your business's growth. Alandria Lloyd is a marketing project manager and founder of The Agency by Alandria Elle. She saw a common gap among her fellow entrepreneurs when marketing their businesses. "I've noticed that many business owners focus more on social platforms but neglect to market themselves locally or nationally," she says. "I wanted to help entrepreneurs promote their business offline as much as they post online." Devoted to opening new horizons, Alandria created her business to establish local and national offline visibility for others.
It may seem counterintuitive to market offline when so much is online. However, Alandria reminds us –"there's a great big world filled with people who will never see them online, no matter how great their reels are." One of the most challenging aspects of her business is reminding other entrepreneurs of the benefits of offline marketing. Yet, when she is able to prove it, it is very rewarding. One of her favorite parts of her job is "watching clients light up after seeing their brands being featured on a billboard or television commercial," says Alandria. Given the third quarter revenue in 2021 for billboard advertising was 1,333 billion dollars, it's no wonder her clients are finding so much success. Some other ways she helps her clients outside of billboards include news segments, press releases, and establishing businesses.
One of her clients came to her wanting to start their own business but was unsure what the company was. "So, we found her passions and what she was good at," says Alandria. "I helped her with the business side of getting all that together and coaching her through the process. Within a year, she opened up her brick and mortar. Now two years later, she hired a full staff and is opening a new location." Besides helping her clients, Alandria aspires to do more for her business.
Coming up in October, she is launching a television network. "Marketplace Mogul" will highlight entrepreneurial journeys to increase visibility and solidarity with other business owners. "My goal is to continuously provide global platforms for women to thrive and shine," says Alandria. The program also includes sponsorship opportunities such as commercial and digital ad placement. She is currently seeking content creators to help launch the show globally, plus other entrepreneurs interested in being sponsored. For additional information, call or text 404-759-9610. "Don't be afraid to put yourself out there! The world is waiting for you and your amazing offers, so don't keep them waiting any longer," says Alandria.
Along with her amazing success, Alandria found connections and community within IAW. "The connections I've made have been life-changing," she says. "IAW is a safe space for women who genuinely support other women. Becoming an Influencer was one of my best business decisions this year." As an Influencer member, Alandria has a roadmap personalized to her goals that will provide more resources and access to various platforms to achieve her dreams.
Connect with Alandria Lloyd:
Instagram
Want to read stories from our members? Check out our featured members on our blog, or sign up for one of our many upcoming events to meet them in person or online. Community is just a click away with an IAW membership!