Local Chapter Spotlight: Helen Morgan in Orland Park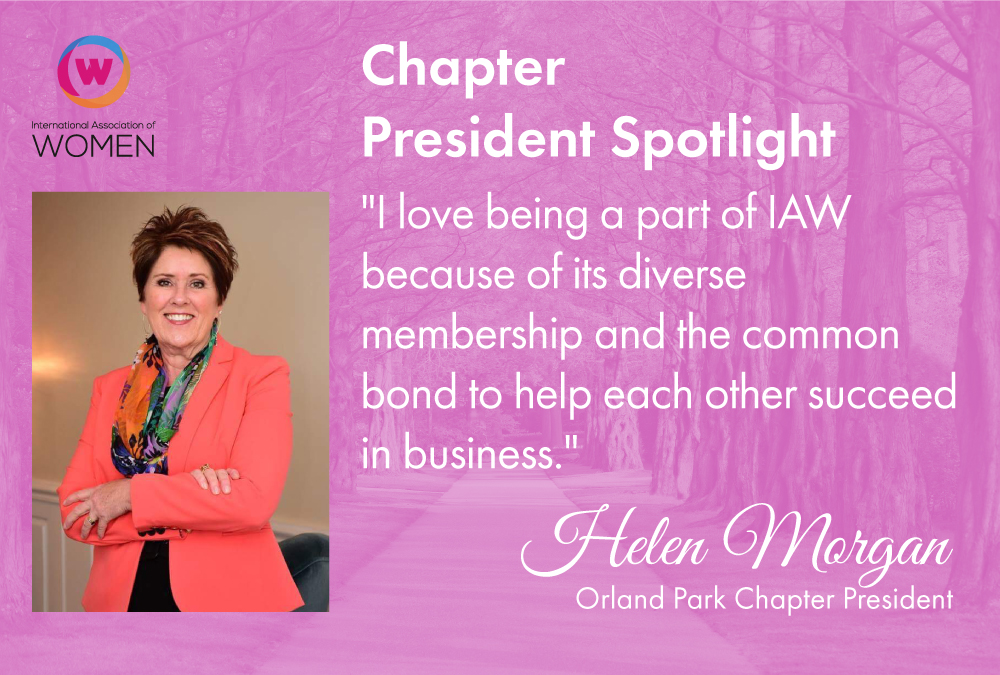 Now in her in her sixth year of leadership, Helen Morgan continues her successful tenure as Orland Park Chapter President and is
Filling a Need
Six years ago, I saw a need for women in the South Suburbs to have an opportunity to join such an outstanding organization as IAW (then NAPW). I quickly decided to take on the role of Orland Park Chapter President and helped launch the Chapter.
Since then, I am extremely proud of what we have accomplished. First and foremost, watching the growth of so many members starting their journey and stepping outside their comfort zone has been inspiring, as has been experiencing the strength of women supporting and empowering other women.
Growing a like-minded, supportive leadership team has been key and their hard work has been instrumental in our Chapter's successful efforts to give back to the community through philanthropic events, volunteerism and fundraising. Through the years, The Orland Park Chapter has been involved with local charities and organizations such as the Breast Cancer Research Foundation, American Heart Association, Together We Cope (which provides clothing and referrals for Southland residents in temporary crisis), the Crisis Center for South Suburbia (which helps those facing domestic violence) and The Pediatric Oncology Treasure Chest Foundation.
Planning Events
The topic of our meeting in June was 'The Power of Personal Branding,' where we discussed ways to successfully brand yourself. On October 30, Chapter members will be attending a breast cancer awareness fundraising event, Wear Pink "Ladies Night Out" at the new Von Maur store opening in Orland Park. The team is extremely excited about this invite as we were selected from many women's organizations!
Other upcoming meetings/topics include July 18: Women Independence Month-Work, Life, Balance; August: Decluttering, Both Personal and Professional; and September 19: Back to School-Self Improvement. In November, the theme is centered around being grateful and in December, we celebrate each other!
About Me
I am a Realtor/Broker at America's Finest Real Estate and the Founder of Resource 55 for Seniors on the Move. I have more than 30 years of experience as a successful Real Estate Broker and specialize in serving clients ages 55+. I'm a Certified Senior Housing Professional, so I have the expertise and compassion for my unique clients. Most have lived in their homes 30+ years, which means strong attachments and an accumulation of memories and mementos. When it comes time to make the big decision, seniors need my services to guide them through the entire transition.
I am also the Host of Southland Senior Resource Series, a weekly TV show with Southland TV, providing seniors with honest answers from local experts focusing on the unique and complex issues for seniors. We cover different topics every week to help them navigate the sometimes overwhelming world of aging.
Feeling Grateful
I feel strongly that my role as Chapter President has helped me go further in my career. I have received recognition in the community as an advocate for our senior population, and respected for my leadership skills. Most importantly, IAW members bring so much knowledge, inspiration and support, and because of them, I continue to grow personally and in business. I am extremely grateful to each of them. I am also very proud to have been a 2018 Hidden Figure Honoree.
Looking to the Future
I love being a part of IAW because of its diverse membership and the common bond to help each other succeed in business. I plan to continue my role as Orland Park Chapter President and look forward to many future endeavors together.
Continuing to grow both personally and professionally is always my goal. I hope to grow a team of like-minded professionals to support my advocacy business with seniors. I will continue to educate families about the complex issues the aging population navigate daily, and provide resources to reduce the overwhelmed feeling associated with a move. I also hope to volunteer more, and spend joyful times with my five grandchildren.