Local Chapter Spotlight: LaTrenda Ross in Hudson County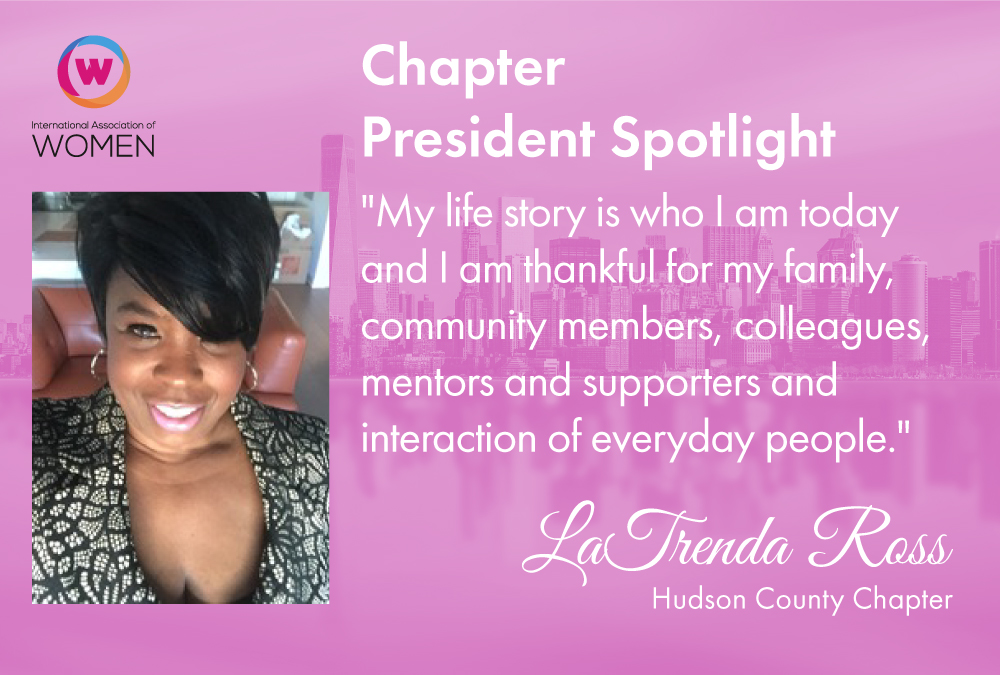 When she realized there was no Local Chapter in her area, LaTrenda Ross decided to help launch one. Seven years later, she continues to successfully lead the Hudson County Chapter.
New Beginnings
I was laid off when I received a call from NAPW (now IAW) and it was funny, because when I got the call, I actually was looking for something to belong to that would bring me together with professional women. I knew being around supportive, engaging, uplifting and super-awesome women would put me on the map to my vocation.
I remember asking the membership representative, "How come there isn't a Chapter in Hudson County?" and she said, "Won't you start one up?" I said, "Nooo, that's alright!" The representative contacted me again a few days later to complete my membership enrollment and I said, "You know what? I thought about it and something is nagging me to start up a Chapter." And that is how Hudson County Chapter began.
Proud Accomplishments
Hudson County Chapter was launched seven years ago and I cannot believe it's been this long. We have accomplished so much and have the support of the community, neighboring cities and, of course, our members. We have a fabulous space to host our meetings, thanks to United Way of Hudson County President and CEO Daniel Atilio.
The Hudson County Chapter has given back to the community in several ways, including by hosting Back-to-School Back Pack School Drives, a networking brunch where we raised over $2,000 and honored an agency providing services to women and children. We've also hosted our Women' s Conferences where we have honored several women trailblazers in the community.
I recently celebrated my birthday and on my personal Facebook page was a comment from a mother who was in need some years ago. She said, "Happy Birthday, nice Lady. I remember you La-Trenda. You helped my family out some years ago." I responded by saying, "I do remember you! How are you and your children?"
As Hudson County Chapter President, I got an email from this woman (who got my email from someone else). She needed help with school supplies for her children. I remember reaching out to all of my members and without hesitation the mother and children received an abundance of help. We are here for our community and will do our best to help anyone in need.
Continuing Our Work
We just had an awesome presentation at our "How Women Can Develop Their Personal Brand" workshop at United Way of Hudson County's Community Center. Our guest speaker was none other than Sashalla Lemond, Vice President, Global Business Manager, Chief Controls Officer, Barclays International Chairperson, and Barclays Embrace Black Professionals Forum. She is a phenomenal speaker and supporter of women and their business ventures.
The Hudson County Chapter is also organizing a summer-ending soiree, conceivably at Rooftop Exchange Place, a place where you can breathe and feel free and view New York City. Our future goals include hosting a 2020 Women in Solidarity Networking/Breakfast, a YG (Young Ladies) Leading Change Day Luncheon and a Women-Owned Business Expo. We look forward to bringing back Toastmasters International, a nonprofit educational organization that teaches public speaking and leadership skills through a worldwide network of clubs.
Making the World a Better Place
I'm not really big on titles although being Chapter President has given me access to a tremendous amount of support and encouragement. People are always asking me, "Do you ever sleep?"
As Chapter President, I have gained insight into owning my business, and how to network and engage with women from all walks of life. I have completed an A.A.S. degree in Human Services and a B.A. in Psychology and am currently working on earning an M.A. in Social Work. I have received many awards and proclamations and official appointments through several entities.
I also came to the realization that my vocation is helping others and spending my volunteer time, energy and, at times, money to make the world a better place has made me better. It has inspired me to get my life/career coaching business started. I have a saying: "If I told you my story you would just hold me and never let me go." My life story is who I am today and I am thankful for my family, community members, colleagues, mentors and supporters and interaction of everyday people.
Inspired to Give Others a Voice
My desire has always been to help others. Some family members who have passed on were pillars in our community. I have been employed in the social work field for about 25 years. Helping others is challenging although I am always ready to stand-up and fight and enrich people and communities in all realms of life. Having degrees and qualifications are more than having pieces of paper; it's about making a lasting impact. It has afforded me the opportunity to work in a variety of settings where I have been able to empower, advocate, motivate, connect and encourage others. I am here to help and save lives and become the voice for those who cannot advocate for themselves. I am setting trends!
I've been employed by the County of Hudson's Department of Family Services Division of Welfare as a Senior Community Service Aide for 6 ½ years. I help manage a county-funded program that provides homemaker services to the elderly and disabled adults. I interview prospective applicants for program enrollment and manage a $400K budget, execute contract monitoring and performance, conduct counseling and act as a community liaison regarding benefits, and other program and resources. My greatest accomplishment is increasing enrollment in local marketing initiatives that resulted in a two-year program increase of 30%. I also respond to calls from 24/7 telephone homeless hotline for homeless families and people.
I am Chairperson of the Food and Shelter Coalition of Hudson County, an independent coalition dedicated to the belief that all members of a just society are entitled to food, housing, education, employment, and all necessary medical, mental health and social services with an emphasis on keeping families together. We act as a resource for all those we serve. We are advocates, service providers, government workers and community members. Our ultimate goal is to end hunger and homelessness in our community.
In all of my roles, from Chapter President to County employee to Life Coach, I use a number of skills, including empathy, creativity, problem solving and brainstorming, leadership and integrity. I have grown with the help of many mentors, and being able to give back by doing the same thing is truly rewarding.
Looking to the Future
I am very passionate about public service. Running for political office is absolutely my divine calling and will enable me to address community issues and continue to help others. I am also excited about working on the finalization of my life/career coaching website and look forward to earning an Master's in Social Work.