Local Chapter Spotlight: Molea William in Fairfield County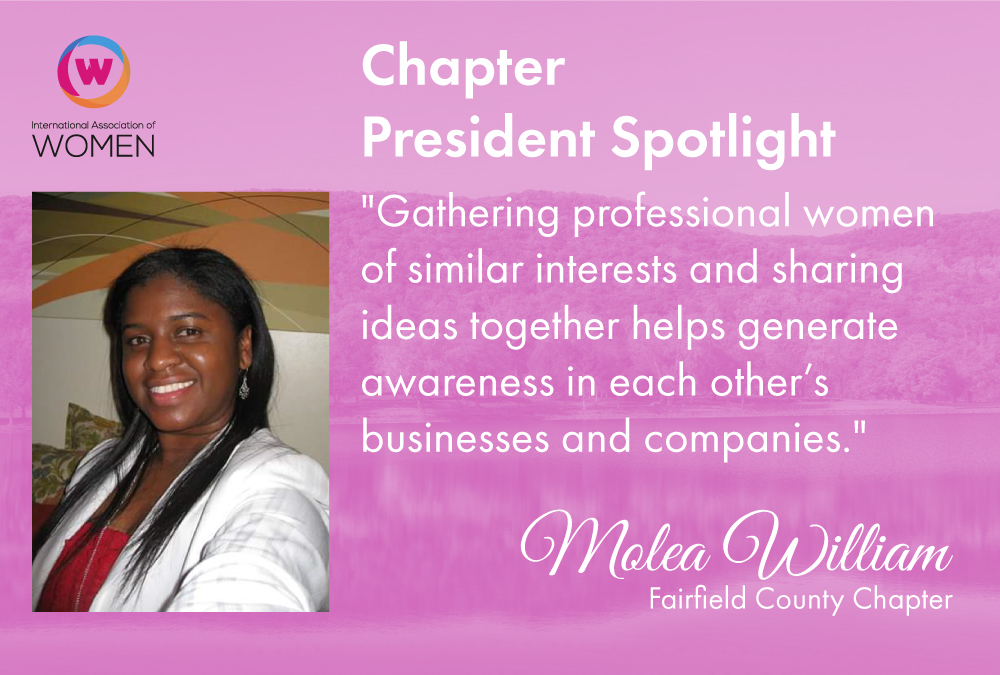 In her new role as Chapter President, Molea William is passionate about bringing together the women of Fairfield County.
On the Right Path
Six months ago, I took up this role because I am confident it is the beginning of a journey that will continue to help me develop both personally and professionally. It is a journey that will help me grow from the experiences and benefit the Fairfield County Chapter.
With the help of my leadership team, along with my ambition and courage, I am proud to say that I have successfully organized a number of well-attended meetings. Gathering professional women of similar interests and sharing ideas together helps generate awareness in each other's businesses and companies. I am also very proud of having the opportunity to be a role model to other members. Being Chapter President has helped me recognize how important it is to be a leader and have others follow my footsteps.
Networking & Learning
The Chapter has been conducting meetings throughout the Lower Fairfield County and members continue to show interest in attending. All enjoy networking with other professional women, having speakers who generously share their ideas and learning something beneficial from what the speakers have to say as well as from each other.
At a recent meeting, our guest speaker was Author Carol Soloway. She discussed her newest book and then opened the floor to questions and comments. It was a great evening! In June, the topic we discussed is women's financial empowerment, an issue all women need to know more about.
Community Connections
A future plan I have for the Chapter is a charity event where we team up with a local women's shelter. Each member will bring a dish to the shelter and serve the women buffet style while at the same time sharing positive and encouraging words with them.
About Me
I am a Medical Assistant at SHMG and have been in my current position for more than five years. I started in this industry by pursing my education in that field. I was looking for a job that would be both exciting and rewarding and when I saw an advertisement on television for this type of work, it inspired me to go back to school. I felt like I found an opening to my future.
My key responsibilities are patient care, working with electronic health records and creating a peaceful environment by helping to organize team-building activities. I also make sure that the patient has a great experience from the time they walk in to the time they exit the building. I am skillful in Microsoft Office: Word, Excel, PowerPoint and Outlook. I am also very good at researching and multitasking. I use my skills every day to help people and to solve problems.
Giving Back
I am a former member of the Stamford Health Recognition & Events Committee and am currently a member of the Stamford Health Community Connections Committee. In my spare time, I volunteer at the Inspirica Women's Shelter in Stamford, CT.
Future Plans
I have a few future goals that I aim to accomplish. One of them is to start my own business and I plan on taking action steps that will help me reach that goal. I am also passionate about my work as Fairfield County Chapter President and will continue to work hard to grow the Chapter and attract even more members.