Make Mentoring Work for You!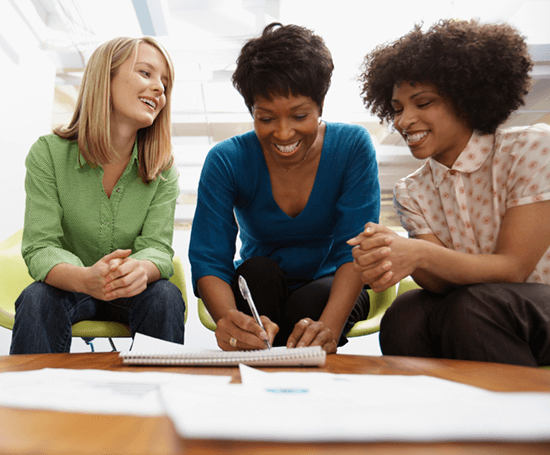 It's time to hit the ground running, create your power year, and make mentoring work for you. Since there is power in numbers, there's no reason to go it alone. If your goals include advancing your career, moving up in the company, or exploring a new industry, consider asking a more senior co-worker, colleague, or acquaintance to be your mentor.
Studies show that having a seasoned professional to turn to for advice and guidance is invaluable to your career growth. In its survey of nearly 1000 professional women in the US, LinkedIn found that 83% agreed to have a mentor was important. Teaming up with a more experienced individual goes far in helping you acquire new skills, expand your professional network and achieve overall career success. Here's how to make mentoring work for you:
Getting Started
What are your professional needs and ultimate goals? If you want to climb the corporate ladder in your current company, then, by all means, look to a senior co-worker for guidance. Does your company have a formal mentoring program? If so, sign on to participate. Looking to change careers? Turn to your network to find someone who works in the field or at a company that interests you.
Choose Wisely
Think about your goals, be diligent, and do some research before you approach an individual to take on the role of your mentor. Are you looking to team up with someone with exceptional technical skills or is it a particular leadership style that you want to learn more about? If possible, talk to co-workers and former mentees to discover as much as you can about a potential mentor before making a commitment.
Be a Model Mentee
An effective mentoring relationship is a joint effort between you, the mentee, and your mentor. It takes effort, communication, and commitment on both sides to make a successful collaboration. Be especially respectful of your mentor's schedule. Show up for meetings at the designated times (no last-minute canceling), be prepared with substantial topics you want to discuss, and do your "homework," if required!
It's Not Just for the Young

It's never too late to learn. Reverse mentoring, where an older worker learns from a younger one, is becoming more popular in the workplace, especially with today's rapid-fire technological advances. If you're a seasoned executive who feels out of touch when it comes to the latest social media platforms, for example, enlist the help of younger, more tech-savvy professionals.
Find a mentor or become a mentee by joining a Local IAW Chapter in your area today and make mentoring work for you!