Featured Member: Dr. Karyne Messina on Misogyny and Helping Others Finding Their Voice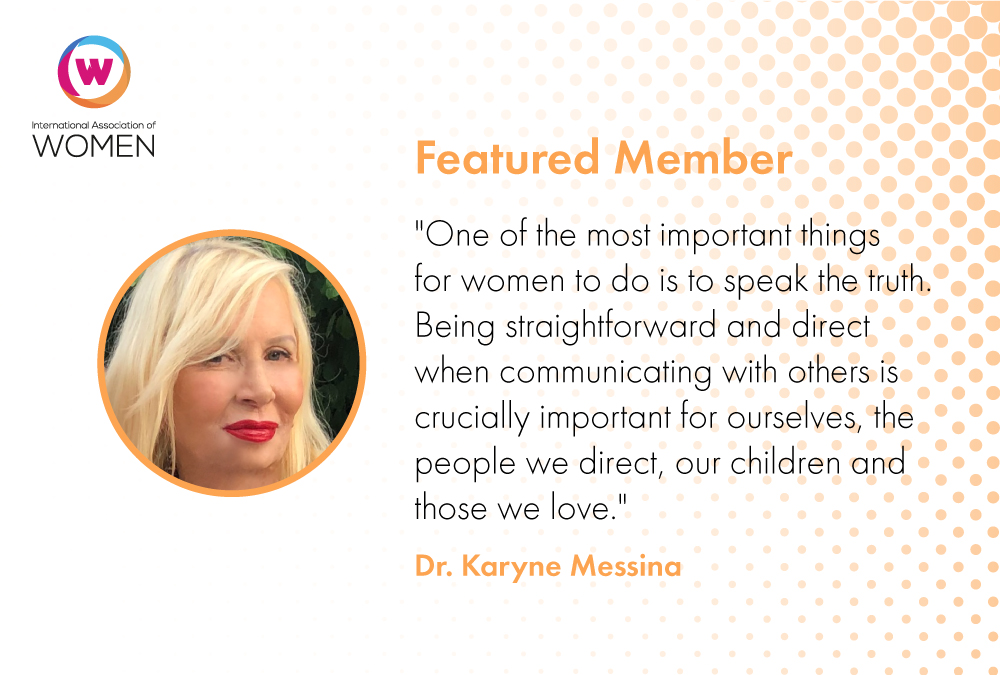 Meet IAW members in Featured Members, a weekly column where members highlight their careers and businesses. VIP and Influencer Members: to be featured in Member Spotlight, submit the form here or contact us at memberservices@iawomen.com.
Psychologist and Author Dr. Karyne Messina speaks out about misogyny and works tirelessly to give a voice to those who need it most.
Standing Up for All Women
I am a Psychologist and Psychoanalyst with a private practice in Chevy Chase, MD. Helping others find their voice has been important to me for many years.
In addition to working with my patients in my psychotherapy practice, I wanted to make some kind of contribution to women and the causes that define our future. Recently, I completed my first book. Titled Misogyny, Projective Identification and Mentalization: Psychoanalytic, Social and Institutional Manifestations, it will be published in April.
I became interested in writing a book about misogyny because of the terrible state of affairs for women in this country—today and in years past. Some women lead national organizations such as Planned Parenthood, other women fight against sex trafficking, while others manage and work in rape crisis centers and other agencies that help women throughout our country.
Women do amazing things. I wrote a book.
Embrace Truthfulness
One of the most important things for women to do is to speak the truth. Being straightforward and direct when communicating with others is crucially important for ourselves, the people we direct, our children and those we love.
I love my work as a Psychologist and as a Writer because in both fields, I am able to use my expertise in writing, conducting psychotherapy, teaching, and training to help others find their true selves.
Live a Life with Intention
I have conceptualized a new idea about change called 'Redactional Identification.' Simply put, it means editing old ways of being with the help of another person, usually a Therapist, so that a person can actively participate in life with 'intention.' This is as opposed to living life as if one were drifting down a river on a raft without a paddle; being moved from one side to the other by the current and wind without having a plan or sense of direction in life.
Future Goals and IAW
I want to continue to write books for and about women as well as books for children so I can share what I believe is important and what I have learned other women think is important in order to lead a fulfilling life.
The staff at IAW is extremely helpful and makes connecting to women all over the country in various chapters easy. My advice to other IAW members is to join various chapters and post weekly when doing something you feel should be highlighted.