Featured Member: Marilyn Thorpe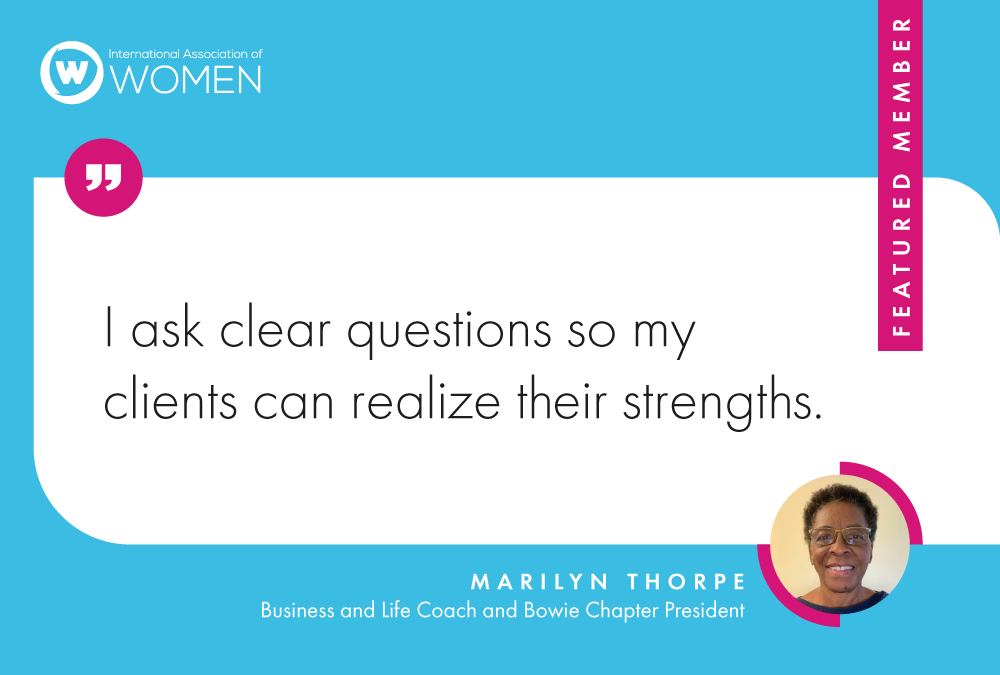 For over 30 years, Marilyn Thorpe worked in IT, supporting management and staff with training, software database, and more. She realized that she enjoyed communicating with her coworkers and helping them solve problems. "I had a good mix of getting my hand into the technical side, network and user systems, while also helping them get a better sense of how the computer works and how to solve some of their problems," she says. Yet, when the company began developing a separate organization and started losing funds, she was laid off.
Feeling more fulfilled when she was training and communicating with people, Marilyn took some time to research different careers while she worked another nine-to-five job in IT. A Washington Post article on coaching piqued her interest. She pursued an International Coaching Federation (ICF) certification from Corporate Coach U as a Business and Life Coach. "After I completed the training and certification, I did a program that encouraged you to work for yourself, so I opened my business NexPhase Transitions," she says. "I started it in 2006 but, when you work for yourself, there is so much you have to do. It wasn't until 2019 that I started to prioritize my coaching business. " 
Currently, Marilyn is working alongside another coach who compliments her skills. Together with their companies NexPhase Transitions and Embrace, they coach executive leaders and managers to assess their strengths and weaknesses and form an action plan. Her coaching style focuses on clean language. It is a term coaches use to ensure all communication with a client is not persuading them in a certain direction. "We look at the options, and I ask them clear questions. Not questions that would lead them into an area that would stray them from their original plan. I ask questions so they can realize their strengths and come to the conclusion on what they want to do," says Marilyn. 
A part of her coaching process is her connection to God helped shape her values and ethics. She uses her spiritual relationship to help her journey and others. "One of the things that are important to me is my values and ethics. I use what I have learned in my relationship with God as a jumping-off point so that when I interact with someone I am not trying to mislead them," she says. Before coaching, she did not have as strong a relationship with religion. By starting her business, she wanted to make a change in her life by working based on her values and ethics.
Along her journey, Marilyn found support from the IAW community. She has been a long-standing member and stayed through the company's transition from NAPW (National Association of Professional Women) to IAW (International Association of Women). The opportunity to network in a professional community of women is one of the reasons she continues her membership. Originally, there was no chapter near her but, as more members came, she started a chapter in Bowie, Maryland. Since then, she has been Chapter President. 

Connect with Marilyn:
If you are curious about what it means to be an IAW member, then connect with us at one of our events. Check out our member page to learn more about what you can gain from an IAW membership!