Featured Member: Tara Johnson Shares How She Built a Successful Business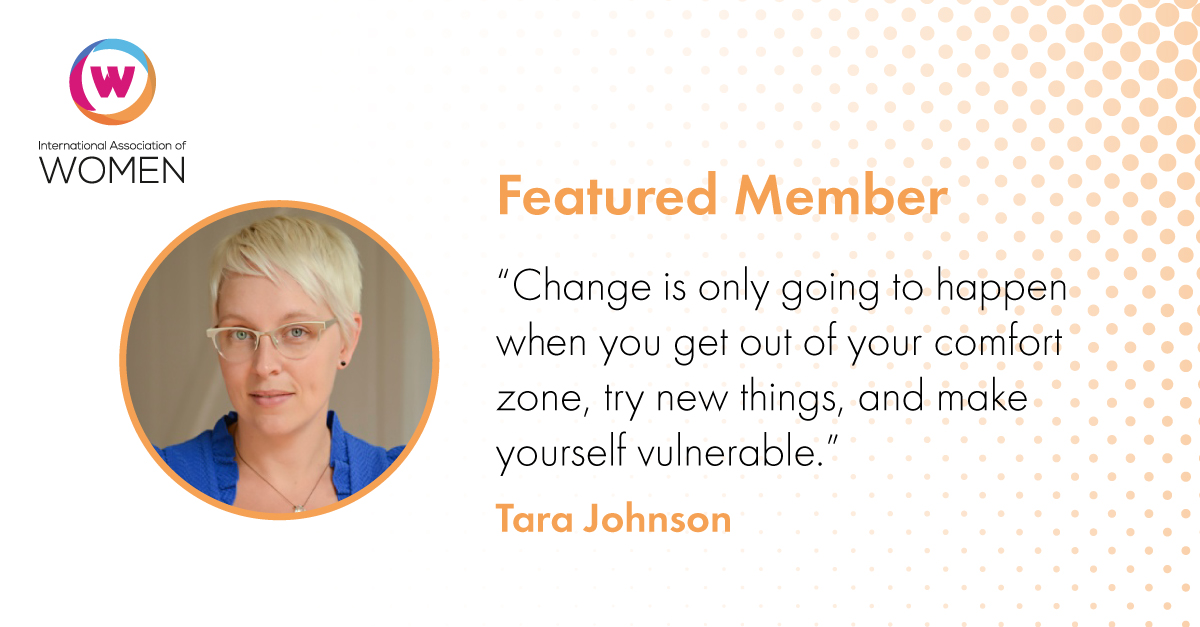 Expanding her skills as a photographer and staying open to new technology allowed Tara Johnson to build a successful digital marketing company
Meet IAW members in Featured Members, a weekly column where members highlight their careers and businesses. VIP and Influencer Members: to be featured in Member Spotlight, submit the form here or contact us at memberservices@iawomen.com.
Out of the Darkness
I have a bachelor's degree in photography, so it all began in the darkroom: the capturing of small moments, losing myself in the process of creating. At the time, I actually had a deep hatred for computers! But as digital mediums began to take hold, I softened to the possibilities, eventually allowing my techie side and love of learning to overcome my fear of moving to a more digital space.
I studied graphic design next, which eventually led to web design, branding and digital strategy. I freelanced for a number of years, finally realizing that putting together a website is the easy part—the hard stuff comes in finding your audience, your tribe and your voice. I started AlchemyThree because I wanted to provide more value to my clients, build lasting relationships and empower my customers to grow, thrive and achieve their goals with confidence.
Myriad Skills & Expertise
The many skills I have honed throughout my career are the same skills I use every day to help my clients achieve success. My expertise includes WordPress consulting, UX and front end web design, logo work and branding, print design, inbound and outbound marketing strategy, photography, speaking and training and project management. I also have an awesome team and their areas of expertise include search engine optimization; keyword research, Facebook ad campaigns, marketing funnels, Google Review funnels, blogging, social media management and web care and maintenance.
Get Uncomfortable
I have so many strategy and marketing tips I would love to share! I try to do this as often as I can with our company blog, which I hope you check out.
One of my biggest pieces of advice is this: make yourself uncomfortable. Every. Single. Day. I am saying this to my myself just as much as I am to you. Change is only going to happen when you get out of your comfort zone, try new things and make yourself vulnerable. It's what makes us human and it's how we can establish deeper connections with one another.
My second piece of advice actually comes from Seth Godin, who often talks about the Lizard Brain—this is the part of your brain (you know: that whiny, doubtful voice in your head) whose main function is to keep you safe, comfortable and unchallenged. This part of the brain does have value of course—safety can be a good thing! But it primarily keeps us from taking risks and ultimately living the life that we desire. In order to keep your lizard brain in check, push past your doubts and fears. Send your ideas out into the ether, regardless of how imperfect these concepts/thoughts/words might be. This could come in the form of a blog, podcast, book or video. Whatever it is DO IT. Keep that lizard brain in check!
Stay Focused/Be Flexible
Staying focused on the big picture can be a real challenge for me—it's easy to get caught up in the day-to-day running of the business and supporting clients. The most rewarding part of operating a company is meeting new, inspiring and empowered women who are doing amazing things! I also love the flexibility of working in the digital space and often have the pleasure of learning something new every single day!
I'm excited about the future and the goals I want to achieve, including growing my team, traveling and supporting more women owned businesses. Our world is desperate for inspiring, strong, outspoken, amazing women. My goal is to help as many as I can to step into their power and live the life they deserve.
Make Connections
My advice to other IAW members is to connect and contribute as much as you can. I'm new to IAW but that's exactly what I plan to do! Think more about how you can help others as opposed to how they can help you. I invite visitors to book a call with me. This is a complimentary 30-minute call. I am happy to offer marketing tips, give thoughts on social media strategy, critique their website or just chat about life! I look forward to meeting as many IAW members as I can.
Want to contact this member? Connect on www.iawomen.com today! Then message her or write on her Activity Wall.