Breaking Through the Screen: Optimizing Your Online Presence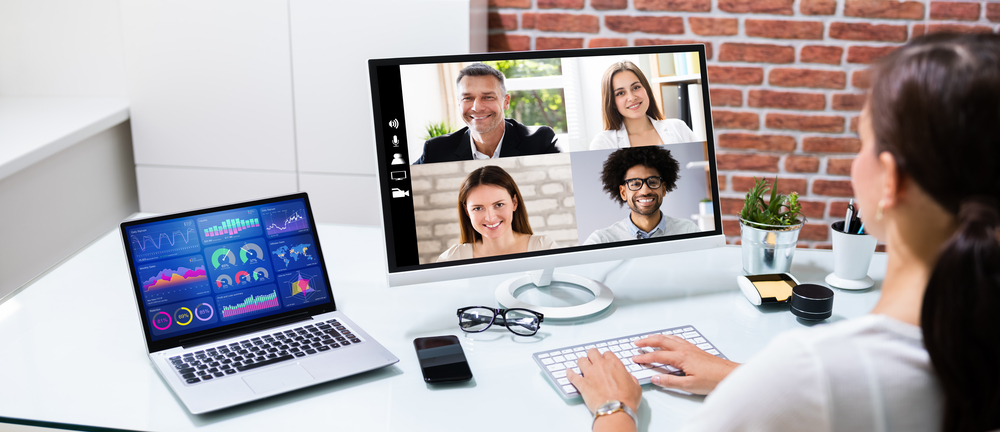 I recently had the pleasure of attending a virtual networking roundtable hosted by IAW Member Daniella Monestime. This was an interactive session that offered great tips for showcasing yourself online.
Daniella Monestime is a portrait artist and photographer living in Brooklyn, NY. She offers headshots and personal branding photography through DMP Headshots and portraits through The Daniella Mone Photography Experience.
"It's always been necessary to be present online, but the pandemic has heightened this," said Daniella. The limitations placed on us by social distancing are driving people online in entirely new ways.
How often do you Google somebody after first meeting them? You're immediately taken to their public profiles online.
"It's your job to ensure that people find the right information about you when they view your public profiles," said Daniella. "Whether you are looking for a job, need to attract more business, want to find the right clientele, or are looking for networking opportunities, keeping your online profile updated allows you to ensure that information is accurate."
Daniella's roundtable session focused on two main areas: using a professional headshot and owning your interactions online. Daniella shares the suggestions below.
Your Headshot
Your headshot is the most powerful tool you have for building your online presence. It will make a big difference in the way you are seen online. A headshot is a photograph of your head and showcases your face.
A great headshot:
Good lighting is a must—you want to light up your face.
Your posture is important, stand in a comfortable position with your shoulders level (standing will help you to avoid slouching).
The level of the camera is important. You don't want to be looking up or down at strange angles.
Your expression should be a true reflection of you.
Your clothing should reflect your brand. Use bright colors if it matches your brand.
Keep your headshot updated—a new photo every 12 to 18 months is recommended (or sooner if your appearance has changed).
"Invest in yourself with an updated headshot. You deserve to feel and look good and be proud of yourself!" – Daniella Monestime
Headshot Don'ts:
A selfie is NOT a headshot.
Do not try to crop a photo that includes somebody else. Inevitably you will end up with a random shoulder or arm in your photo.
A portrait is great to use for showcasing your brand, but a headshot should only include your face.
After getting your new headshot, be sure to update your online profiles (including social media, Google, your Zoom profile, and any professional association profiles).
When was the last time you updated your iawomen.com profile?
Showcasing Yourself Online
With so many interactions now online, it's important to put your best self forward. Whether it's Zoom, Google Meet, Skype, or a Facebook Live, these tips will help you show up online as your best self.
Lighting can help tremendously. Look toward a bright light (you want to avoid shadows on your face). If a window is behind you, you will show up as a dark shadow. Test the lighting with your cell phone in selfie mode.

A simple clip-on light like this one is essential if you're regularly presenting on video.

The angle of your camera can make a big difference, and the goal is to have the camera at eye level or slightly higher. If the camera is too low, people will be looking up your nose and at your double chin. If it is too high, you will be looking up with an awkward neck. Use books to lift your computer if necessary.
Don't sit too close to your camera. It will be more flattering if you keep a certain distance from the camera.
People are always watching and will remember how you show up online. You don't have to dress up, but you do want to make a good impression. If you are attending a virtual business meeting, take care to dress professionally.
Distractions to avoid when joining virtual meetings:
Background noise can be a nuisance. Be respectful of others in the meeting and mute your line as soon as you log in to a virtual meeting. Also, find a quiet space when possible and turn off the TV and any background noise.
Check your background in the camera view. Think about what is going behind you and what people are seeing. A perfect background space isn't a must, but you probably don't want to show off your dirty laundry or messy kitchen to a professional audience. A custom Zoom background is a fun way to incorporate your brand or logo into your Zoom interaction.
Limit distractions in the room so that you can focus on what is going on during the meeting (and so that others aren't distracted watching your video). Try to keep interruptions from your family to a minimum. A sign on the door can be helpful to remind others in your home that you are on a video call.
You can always turn off your camera if you are in a distracting area (or if you are eating!).
Could your public profiles use an update? Carve out some time this week to make some changes! Let us know in the comments below how you put your best self forward online.