Featured Member: Sarah Maynard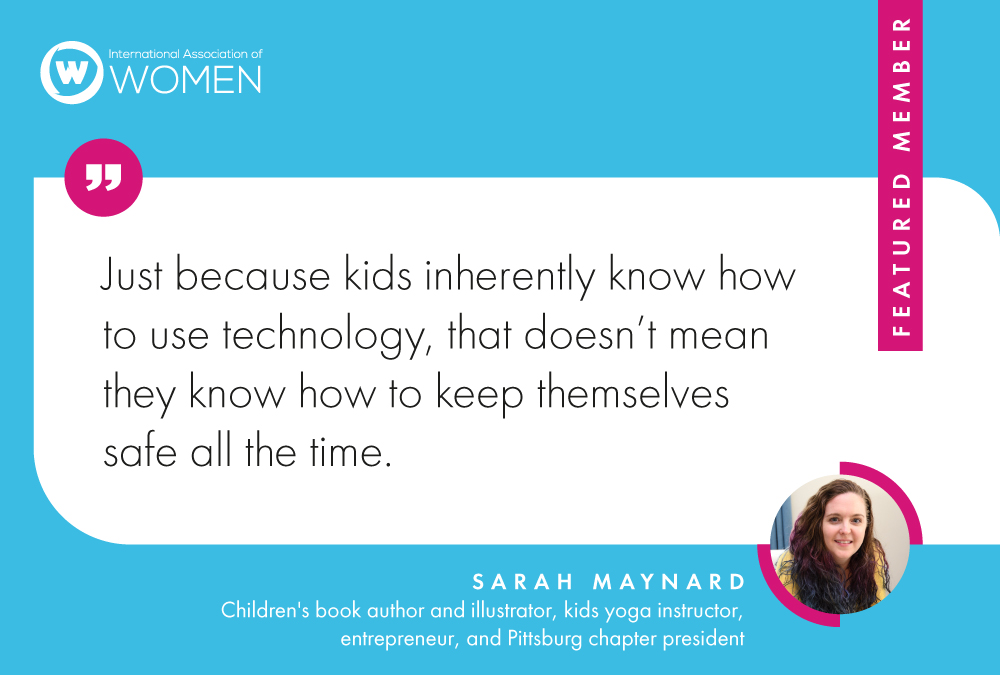 When you are passionate about something as a kid, sometimes it takes a little nudge to realize it's what you always wanted to do in your career. For Sarah Maynard, a children's book author and illustrator, kids yoga instructor, entrepreneur, chapter president, and mom, her passion for working with children started young. In high school, the teachers wanted her in their group because she would count off her friends during school trips.
Middle schoolers especially are enjoyable for her. "There is so much happening when you're in middle school. You're just starting to get that consciousness of everything that is happening around you, but you're still excited to be weird. Watching kids today with so much access to the internet and all these other ways of doing life, they seem to be holding on to their weirdness a little more. Which is great because especially as we grow up we stop laughing at things, " she says. Working with kids was not something Sarah always knew she wanted to do in her career.
Starting with her interest in communication and marketing, she began a digital marketing strategy company for small businesses and creative entrepreneurs. Yet, during a Mastermind retreat, the other attendees asked her about work, and she couldn't stop her enthusiasm for helping kids navigate online spaces. Her coach asked her why that wasn't her business which prompted a major shift in her career. Since then, she created The Start Effect to help inform kids, and their parents, about safe technology and social media use. "Just because kids inherently know how to use technology, that doesn't mean they know how to keep themselves safe all the time." She hopes to continue to grow her business by including more kid-focused platforms.
One problem Sarah encountered with teaching technology is that the device is often taken away as a form of punishment. This only leads to bigger problems. "If you think about any instance when a parent takes something away from a teenager, they are gonna find a way to do it behind your back and you won't know. Then, when there is a problem, they aren't going to tell you. We have to find a way to keep those lines of communication open or they will get to a point in their young adult life where they don't have that safety net of parents, teachers, and guardians right next to them and they won't have personal boundaries with those tools." 
Before starting her business, Sarah was a stay-at-home mom for 12 years and was nervous about re-entering the work world. Her mother invited her to her first IAW meeting during the pandemic, and she felt that "IAW gave me a way to test the waters by talking to professional women again. It was the most welcoming and kind community that I have been in outside the kids. Everyone was excited about what I was doing and really encouraging." Soon, she became the president of the Pittsburgh chapter because she "wanted more women to experience what I experienced. There's this rising tide raising all the boats situation that everyone is excited to help."
Connect With Sarah:

We would love to welcome you to the IAW community to connect with Sarah and thousands of other women. Join today to find support on your professional and personal journeys.  For more information, take our assessment to find out which level of membership is right for you.