Star's Corner: 2014 Women of Achievement Month Historical Firsts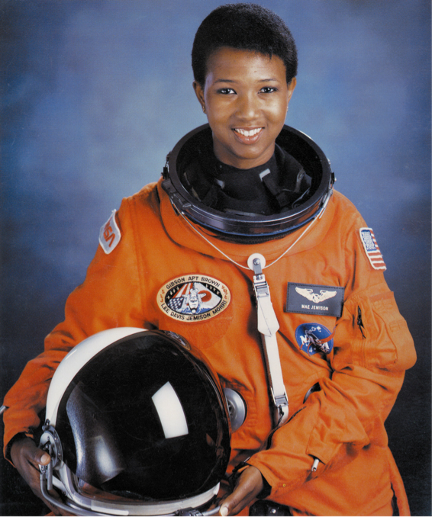 "Don't let anyone rob you of your imagination, your creativity or your curiosity. It's your place in the world; it's your life. Go on and do all you can with it, and make it the life you want to live."
—Mae C. Jemison, first African-American woman astronaut
As the artist contemplates hue, form and composition, every brushstroke carefully considered and placed accordingly, her vision slowly takes shape. Her eloquent voice resounds off the canvas while she paints with freedom, spirit, character and courage, understanding that whether critics appreciate her view or not, it is her masterpiece… it is her grand achievement… and that's what matters most.
Whether large or small, it's time to celebrate all of our grand achievements as we honor women of integrity, victory and perseverance for Women of Achievement Month.
Before we do so, we must thank the brave women who came before us. It is because of their genuine dedication and commitment to the causes they believed in and the sometimes life-threatening risks taken for women's rights and the freedom to pursue our passions, regardless of gender, that 2014 forever resonates with outstanding historical firsts for women.
With so many high-achieving women this year, we would need much more space to cover them all – how cool is that! So, I'll simply highlight some of the triumphant 2014 Women of Achievement you should know from government and sports to the military, entertainment and STEM.

Janet Yellen
It's about time! On February 3, 2014, the US Senate confirmed Janet as the first woman to lead the Federal Reserve as the Chair of the Board of Governors of the Federal Reserve System. This amazing woman of achievement previously served as the Vice Chair from 2010 until her confirmation. After receiving her PhD in Economics from Yale, she became an assistant professor at Harvard and went on to serve as Chair of President Clinton's Council of Economic Advisers.

Michele Roberts
All hail the new Executive Director of the National Basketball Players Association and the first woman elected to the highest position of a major sport's players union in the US. As an adjunct faculty member of Harvard Law School, a fellow of the American College of Trial Lawyers and an attorney known for her ability to respect and get along well with juries, the Washingtonian once referred to Michele as "the finest pure trial lawyer in Washington."

Becky Hammon
Game on! This past August, Becky became the first woman hired as a full-time assistant coach in the history of the all-male NBA for the San Antonio Spurs. A successful basketball player herself, standing only 5'6", she scored her 2000th WNBA career point in 2005 and was named to the All-WNBA Second Team.

Natalie Nakase
Let's hear it for diversity! During the first two weeks of the 2014 NBA Summer League in Las Vegas, Natalie made history as an assistant coach for the Clippers, becoming the first woman to sit on the bench as an NBA assistant. Previously, at only 5'2" – yes, you read that correctly – she became the first Asian American to play in the National Women's Basketball League (NWBL).

US Marine Captain Katie Higgins
Let's salute Katie for becoming the first woman pilot to join the Blue Angels also known as the US Navy Flight Demonstration Squadron, one of the most elite outfits of US military aviation. She will pilot the Blue Angels' C-130 Hercules cargo plane, nicknamed Fat Albert, which can take off at a 45-degree angle using rocket boosters. Talk about flying into history!

Audra McDonald
Brava! This year, Audra, actress and singer extraordinaire, won the Tony Award for Best Performance by an actress in a leading role in a play, becoming the first woman to win six Tony Awards and the first woman to win a Tony Award in all four acting categories. Additionally, with her sixth win, she has won more Tony Awards than any other actor – man or woman!

Iggy Azalea and Ariana Grande
This is fancy! The week of August 18th marked the first time ever that there were two women with three Top Ten hits each on the Billboard Hot 100. Iggy and Ariana achieved this amazing historical achievement through a mix of their own hits and feature spots on other artists' tracks. This is so impressive because only less than 20 years ago, most radio stations would never play two songs by women back to back. Let's dance!

Maryam Mirzakhani
Finally, women get a piece of the "Pi!" Since its creation in 1946, no woman has ever won the prestigious Fields Medal, the highest honor given for mathematics achievement… until now. Iranian-born Stanford professor, Maryam said that she is happy if it inspires women to pursue math and science. And, just in case you were wondering, her mathematical study of shapes could help scientists understand the origins of the universe and the workings of subatomic particles. I'm impressed!

Mo'Ne Davis
I bet every boy wishes he threw like a girl now! A very special shout out goes to Mo'Ne – the 13-year-old Little League baseball phenom – for her historical achievements this year. With a 70mph fastball, she is the first young woman athlete to throw a Little League World Series complete-game shutout (that means she struck out every batter). Additionally, she is the first Little Leaguer of either gender to grace the cover of Sports Illustrated magazine.
Now it's time for you to imagine your life success, to paint the masterpiece you desire… your very own grand achievement!
How do you plan to attain your goals? Do you feel you have achieved success or do you want to do more? Share your comments below.