Terri Robinson, Founder of Diamond Bright Assistance, Shines Bright in her Role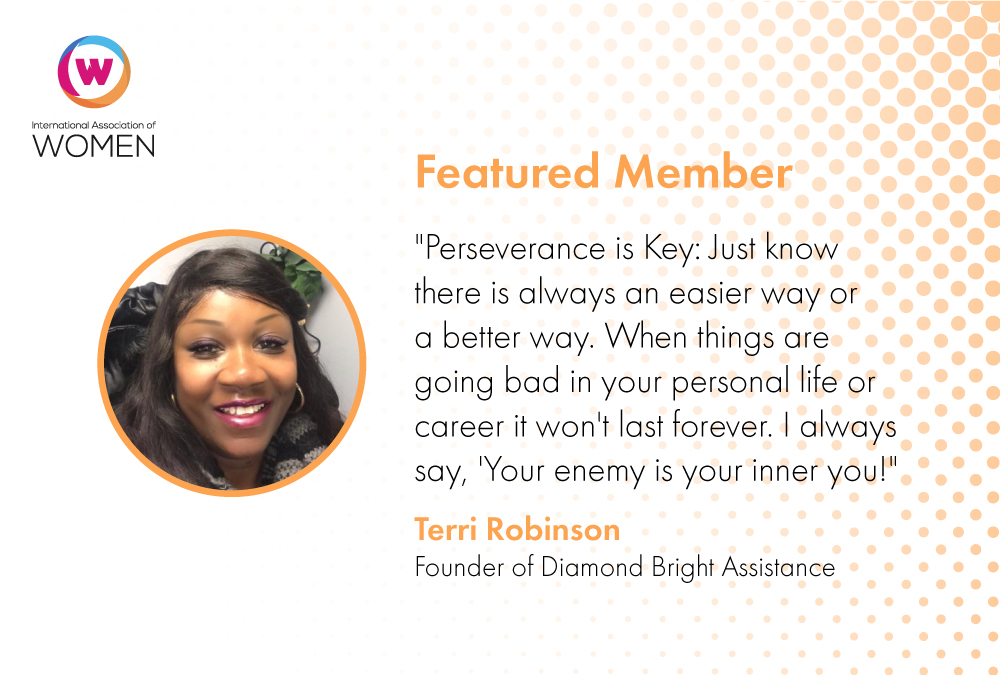 I Can Do This
I have been an Administrative Assistant for 29 years. I was sitting at my desk one day and I thought to myself, "You know, I can do this for other people." That's when I decided to become a Virtual Assistant. I came up with the name Diamond Bright Assistance. I am also a Real Estate Agent for Jonarbri Realty located on Park Ave in Rockville Centre, NY. I have been an Agent for over 15 years.
I started out just doing regular admin services. After really getting started, I found out that there was so much more I could be doing so I took classes and now I am a certified Social Media Manager. I also specialize in website auditing, content creation, email management, resume writing and so much more. I make other people's jobs easier by working smarter not harder.
Perseverance is Key
Just know there is always an easier way or a better way. When things are going bad in your personal life or career it won't last forever. I always say, "Your enemy is your inner you!"
The most challenging thing about my career is I thought I knew everything, having been an Administrative Assistant for over 29 years. But even with all this experience, I was not prepared to become a Virtual Assistant (VA). There are so many jobs that can be done by a VA that I didn't know about.
In the beginning, I was thinking about not starting my own business but I decided to read up on it some more and started taking classes by joining Freelance University. Best thing I could have done! Now, for the rewarding part: I am a certified Social Media Manager. I know how to do website audits and I can fix issues with websites. I also handle resume writing, copywriting, email management and create content. As a Realtor, I help other Agents with marketing, social media and cold calling. There are many jobs a VA can do to help Realtors.
Planning for the Future
My future goals are to create a team and have others join Diamond Bright Assistance. Check out my website if you would like to learn more about my business.
Currently, I am struggling with whether or not I want to create e-books or planners. I am also in the process of writing a book. It was supposed to be about my life (since it has been so amazing-lol) but as I'm writing, different thoughts pop up and I might change the direction of the book. Another future goal is to step up my real estate game. I have been so focused on Diamond Bright Assistance that real estate has been on the back burner.
The Benefits of IAW Membership
I have met some nice people since joining IAW and I hope to connect more and network with other like-minded women. The webinars are awesome. I am new to IAW but I see big things happening for Diamond Bright Assistance. My advice to other members is to take advantage of all IAW offers. I started out slowly but so much is offered.