Featured Member: Rose Buado Can Help You Design the Ultimate Day Job Exit Plan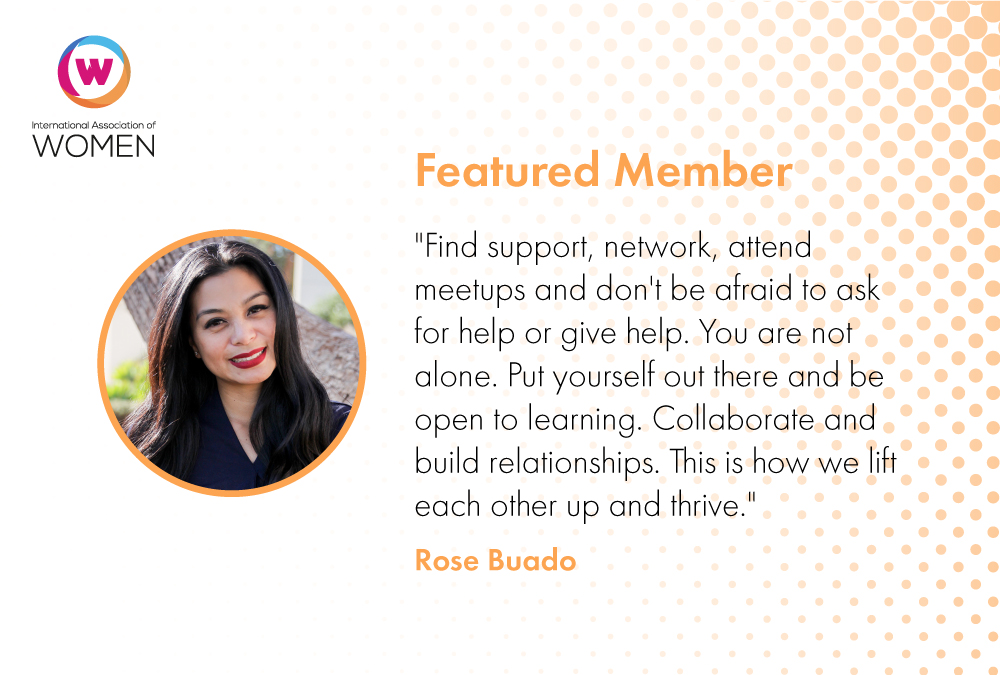 An successful entrepreneur since the age of 18, Rose Buado now helps other women find their passions.
Meet IAW members in Featured Members, a weekly column where members highlight their careers and businesses. VIP and Influencer Members: to be featured in Member Spotlight, submit the form here or contact us at memberservices@iawomen.com.
Dance Like No One's Watching
At 18, I opened my first business. I made a decision to walk into the local park and asked if I could teach dance class to kids in the neighborhood. Surprisingly, they said yes! Then I took it a level up and started teaching dance routines for birthday parties, which then led to me hosting parties then, ultimately, to planning them.
I have always been social; a leader, a networker, always trying to climb to the top. In all my work, I've always wanted to help lead, design new procedures, and even be the top sales person. However, it was never about being able to afford the finer things in life, it was always about me being involved in making a difference or an experience in people's lives.
An Entrepreneurial Passion
Ever since I could remember, my conversations and thoughts were always about new businesses. I still am constantly trying to come up with something new, share ideas, new possibilities, how to start a business and how to build it up.
What inspired me to be fully committed to becoming a Business Success Coach was when I learned that success isn't only about myself. To me, it's about being able to share and be part of a community where we can lift and help others grow, most importantly, supporting like-minded women by finding their path to their true potential and passions. And if we all did that together, then in turn, success will be around all of us, from our daughters and sons to their children.
The Business of Building
In my role at my company, BAE Business, I help career-driven, professional women transition from corporate to entrepreneurship by launching their authentic business and designing the ultimate day job exit plan.
I often hear from women who feel stuck and incomplete working a 9-to-5 job. They often question what they are meant to do in life or feel scared they aren't good enough. They don't know where to start or they won't even try due to pressures from family and friends.
What I do is what I believe. I believe once you let courage take its course you will be able to go after what you want and live the lifestyle you have always wanted with profit and purpose by using my four-step approach on mindset, master planning, marketing and media.
In my career, it can be challenging to keep up with all the new technology. It's constantly changing and there are so many good ones, it's hard to keep up. However, the most rewarding aspect of what I do is being able to be a part of someone's success no matter what phase they are in.
Don't Go at it Alone
My advice to other women who are looking to start a business would be to not do it on your own. Find support, network, attend meetups and don't be afraid to ask for help or give help. You are not alone. Put yourself out there and be open to learning. Collaborate and build relationships. This is how we lift each other up and thrive.
I plan to take advantage of the opportunities IAW provides for meeting strong, inspiring women who can remind me of my goals and vice versa. I'd like to continue to learn and share! I encourage other members to really utilize the educational piece of their IAW membership and make it a point to reach out to others.
Future Goals
My goal is to help 100 women per year with their businesses and passions. My long term goal would be to build a venue site where we can hold fundraisers for organizations that support children in need, here in the USA and the Philippines.
I'd love to follow your journey and learn more about you. Please connect with me at iawomen.com and on Instagram and I'll do the same! I'd love to help support you in any way possible. You can also check out my site at rosebuado.com I'm so blessed and excited to be surrounded by influential and motivating women at IAW